novocal – Care in Motion.
We at novocal made it our task to bring ease of logistical movement between working locations for staff in hospitals, and the wider care sector, with our amazing products. Our ultimate aim is to support and improve working practices to enable them to run smoothly and efficiently, thus saving time and money for the end user.
As a caregiver, it is vital that products used within your care environment are suitable, reliable, easily sanitized, and easy to use. The slightest inaccuracy of information or mix up of resources can cause major disruption to any workflow. To reduce this risk, we at novocal supply high-quality and innovative functional furniture for our customers we have named "novo calibra" – a new level of accuracy.
For over 20 years, we have been helping caregivers, and those they care for, improve everyday life with our laundry collectors, waste collectors, patient care nursing trolleys and IT trolleys. Find out more about us and our work here.
metres of stainless steel per year

Our corporate Video - We set care in motion.
Functional furniture - the unrecognised heroes of the day-to-day care
Functional furniture is part of the basic equipment required for every health care facility. No hospital, nursing home or care home would be able to function without them. We at novocal specialise in functional healthcare furniture, and we fully understand the day to day needs of health care professionals.
So what is functional furniture?
Functional furniture is used for specific tasks which are intended to meet the following criteria in care homes or hospitals:

facilitate and optimise everyday care

save costs and time

ensure safety for patients and users
Work that would require great physical effort without functional furniture, such as carrying heavy garbage bags or distributing patient linen, can be done far more easily with suitable functional furniture. Smooth-running trolleys, plenty of storage space and sophisticated configurations enable nursing staff to carry out their roles easily and efficiently using functional furniture.
Thus, the use of functional furniture saves valuable time, which ultimately benefits not only the nursing staff and the patients, but also the business or sector you work in. The long service life of novocal trolleys, innovative product developments and the flexible application options fulfil all these criteria and do not unnecessarily burden the budget.
In addition, waste, linen and computer trolleys guarantee the nursing staff to carry out their daily work precisely and hygienically. In care facilities and hospitals, this is more important than in any other industry, since any violation of hygiene regulations or careless action can cause an infection. Every single action determines the condition of patients and residents. The pressure on nurses is enormous. Using the right equipment can significantly reduce this pressure and risk.
Characteristics of good functional furniture
We at novocal are convinced that high-quality trolleys can really make a difference to the daily work processes of nursing staff. That is why we pay great attention to detail and quality features in our functional furniture which characterise our work.
Longevity can only be established through the use of high quality materials. As time is critical in everyday care, caregivers should not have to worry about how to handle the functional furniture. In the hustle and bustle of the moment, functional furniture should be able to survive any type of unforeseen impact, and continue to function as designed so that it will serve the health care facility for many years.
In order for functional furniture to really make everyday hospital and care life easier, a mobile, smooth and user-friendly handling is mandatory. The functional furniture in our range therefore have very high quality wheels, so that the nursing staff can easily move them from A to B. This is why our motto is: We set care in motion.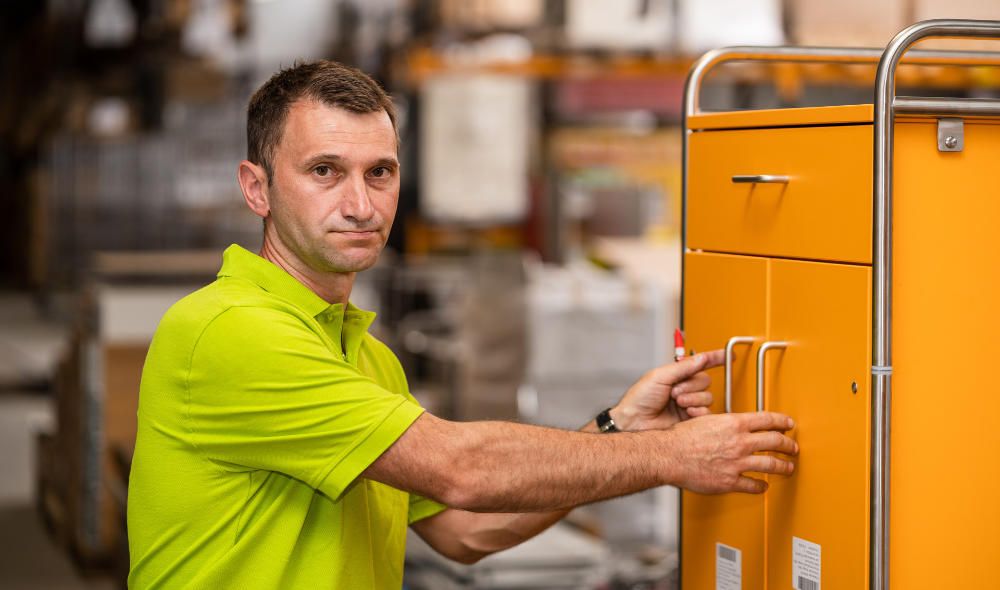 Why functional furniture will become increasingly important in the future
In the coming decades, the importance of functional furniture in hospitals and nursing homes will not diminish. On the contrary – demographic change and digitalisation will constantly provide new challenges and new opportunities for the functional furniture industry.
The average national age is constantly rising. The logical consequence of this is that there are more and more elderly people in need of care. This also increases the need for functional furniture in nursing homes and senior citizen facilities. Incontinence is currently one of the biggest challenges in old age, and the functional furniture industry must increasingly try to respond to this issue over the next few years. We at novocal are already in the process of developing and optimizing devices especially for the incontinence sector. Our latest waste collectors are fitted a foil tube and a specially developed 'vacuum sealer'. This avoids unpleasant odours, waste is disposed hygienically and correctly, and the vacuum sealer reduces transport and storage costs.
Digitalisation will also have a major impact on functional furniture and day-to-day care in the coming years. More and more facilities rely on digital patient documentation and are heading towards paperless working. This is not only more practical and time-saving, but also more sustainable due to the reduced paper consumption which also helps the environment. novocal is responding to this trend with the development of a new design of IT trolleys enabling digital patient information to be collected and evaluated conveniently, securely and quickly.

More than 20 years in Motion - our milestones
For more than 20 years, functional furniture from novocal has been ensuring a smoother everyday hospital and nursing routine for our customers. A lot has happened in these years. We have therefore compiled the most important milestones of our company.
The foundation of novocal
novocal's success story began in 1998 when the company was founded by Wilfried Hanneken in the tranquil town of Ostrhauderfehn. At that time, still under the name novocal GmbH, the company comprised 23 employees from various areas, one office building and one production hall.
In February 2012, novocal and novotec were acquired by Alexander Prox, who is still managing director and owner of the company. As part of this takeover, novocal GmbH and novotec stainless steel production were merged. novocal GmbH & Co. KG was founded.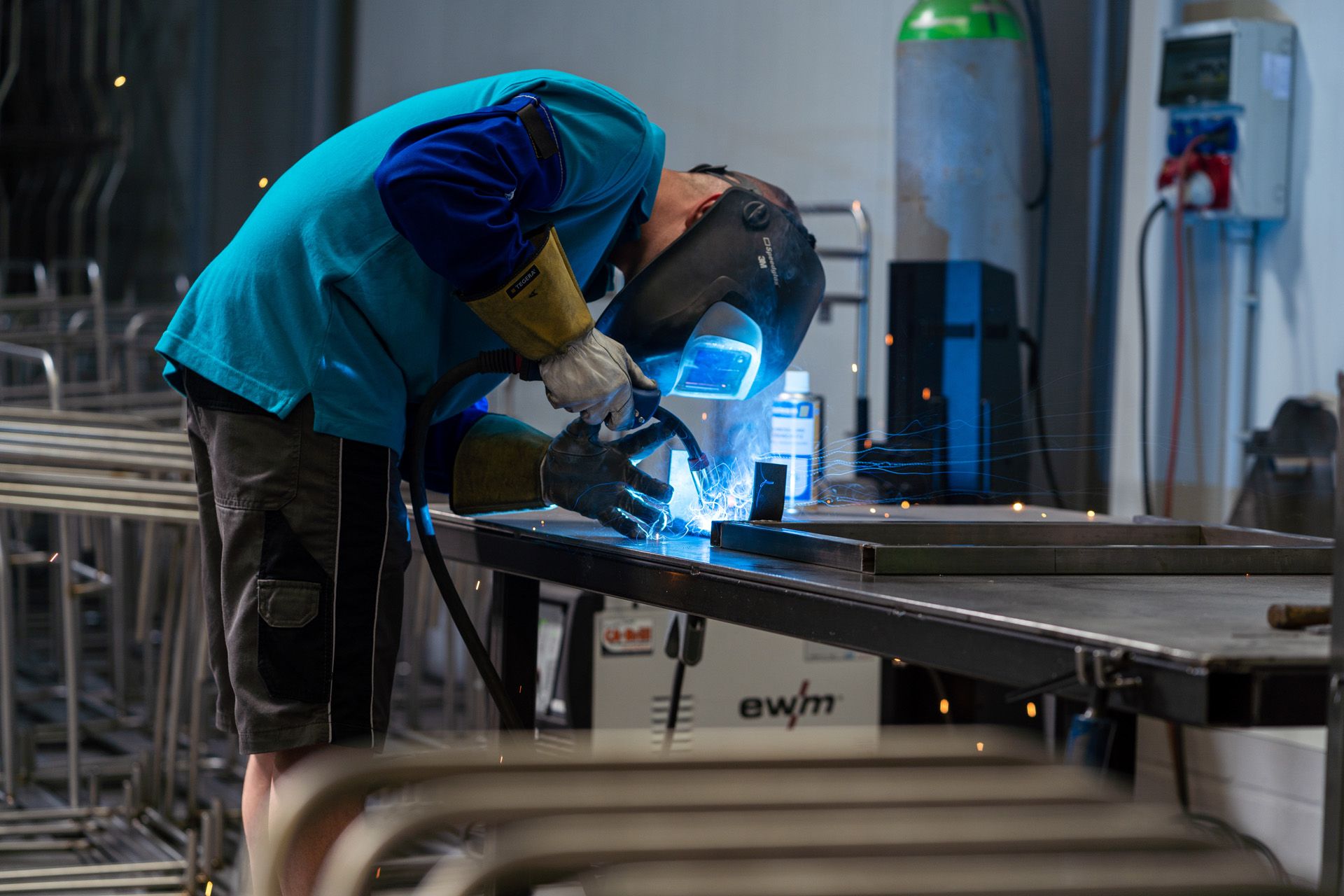 novotec – our own Stainless Steel Production
In 2005, Mr. Hanneken decided to supplement the company's quality and efficiency with his own stainless steel production. He took over an existing company and created his own stainless steel production company called novotec.
Today, novotec no longer exists as a separate company. However, stainless steel production remains an integral part of novocal and enables us to work in a more practical, time-saving and efficient manner. novocal only has to procure the raw material stainless steel and selected stainless steel components externally. All other components for our functional furniture are manufactured in house within our own stainless steel production area. This allows us a very high own production quota, which is second to none in the industry and allows for rapid development of bespoke requests.
How novocal has grown
Since its takeover in 2012, novocal has steadily expanded its premises. Already in 2013, the stainless steel production was expanded by 1400 square meters with a new production hall. In addition to various production areas, this hall also contains technical offices, several recreation rooms for the employees, and a large warehouse where rental, samples, and exhibition equipment can be stored.
One year later, in 2014, the novocal administration building was extended by a second floor. This created a large training and meeting room and numerous offices to meet the steady increase in staff.
The novocal buildings were enlarged once again in 2018. At the end of the year, we were able to complete a new warehouse with storage space for more than 300 pallets, which will further increase the efficiency and comfort of our in-house logistics.
novocal today
Today, 52 committed and experienced employees work for novocal in a wide variety of roles. Stainless steel components are manufactured and processed in our stainless steel production department. Our production and finishing staff are engaged in the assembly of functional furniture so that they can be delivered to the care facility ready for use. The delivery of our furniture is also carried out by our drivers with their own fleet of trucks.
Our experienced sales and office staff complement our team perfectly. Everything here is about purchasing, materials management, logistics and, above all else, customer service. As with any efficiently operating company, novocal has a marketing and human resources department, a management team and cleaning and building administration staff, whose activities in the background ensure that our company is kept running smoothly.
Every employee is valued whatever role they fulfil and are the backbone of our success.
Plans for the future
novocal are committed  to maintain – and further expand – this grandiose growth of the past twenty years looking to the future. Our long-term goal is to outshine the market leaders of our industry by increasing our staff, adding new machines and technologies, and expanding our production facilities creating even more innovative and high quality products.
This can only succeed if we keep up with the times, and not only comply with our own very high quality standards through state-of-the-art technology, but even surpass them. Whilst  spatial and personal growth is planned for this purpose, to achieve our goal we must respond to the increasingly individual requirements of the health care industry keeping the satisfaction of our customers as our number one priority.
Bespoke requests are already part of our day-to-day business. Through individual production, we are able to react to even the most complex customer requirements. In order to further extend this advantage, in the future we will increasingly focus on the possibilities of robotics and digitization, which make the individual production of products even more efficient, accurate and streamlined.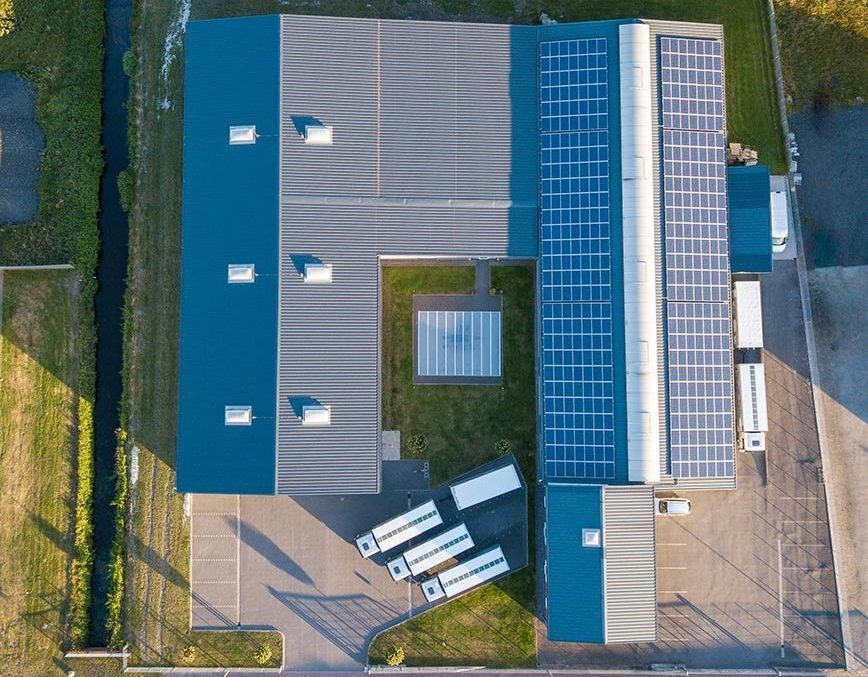 More than 20 years of success would not have been possible if we did not always have pride in our values and success. This is what motivates us all, and will continue to do so long into the future. Here we will highlight our USP and give you a taste of our most successful projects so far.
As every order at novocal entails individual requirements, every project is something very special for us. Nevertheless, we would like to present two particular projects as examples, which were particularly exciting for us due to their challenge.
University Hospital Hamburg-Eppendorf
The UKE (University Medical Centre Hamburg-Eppendorf) is one of the most modern clinics in Europe with currently 13 centres, which comprise more than 80 clinics and institutes. When we saw a tender for 200 patient care and nursing trolleys in 2009, we did not realize that our functional furniture would soon be an integral part of this impressive clinic.
We were awarded the contract and soon three trucks full of nursing trolleys began their journey to the unfinished new building of the UKE main building. There, three of our employees distributed the trolleys throughout the new premises within two days.
To this day – more than ten years later – the trolleys are still in use and perfectly maintained without a single unit having to be replaced or returned.
More than 400 Collectors for one distributor
Orders in the three-figure range are not necessarily an everyday occurrence at novocal, although we are more than capable of providing this service if required. It makes us all the more proud that we were able to produce more than 400 collectors for two hospitals in cooperation with a distributor in 2019.
Originally, the order amounted to around 100 collectors. As the dealer and the hospitals were impressed with our products, another 100 collectors were requested shortly afterwards. This was followed by a third order of more than 200 collectors. We are truly proud that our functional furniture is so well received by hospitals, and that our clients can immediately see for themselves the value and quality of our products.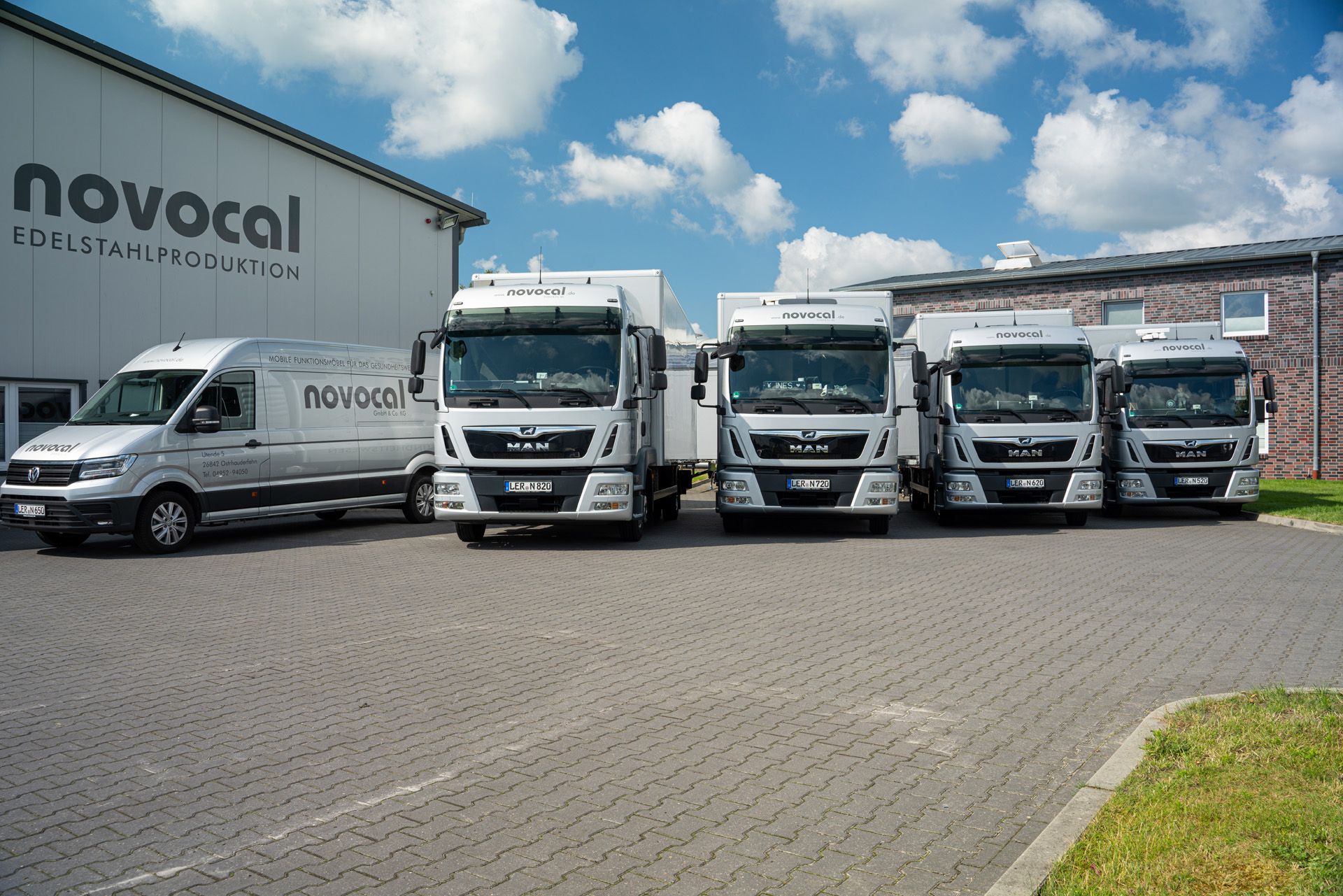 The healthcare industry is a large and highly competitive market. Therefore, in this section we want to focus on what sets us apart from other manufacturers.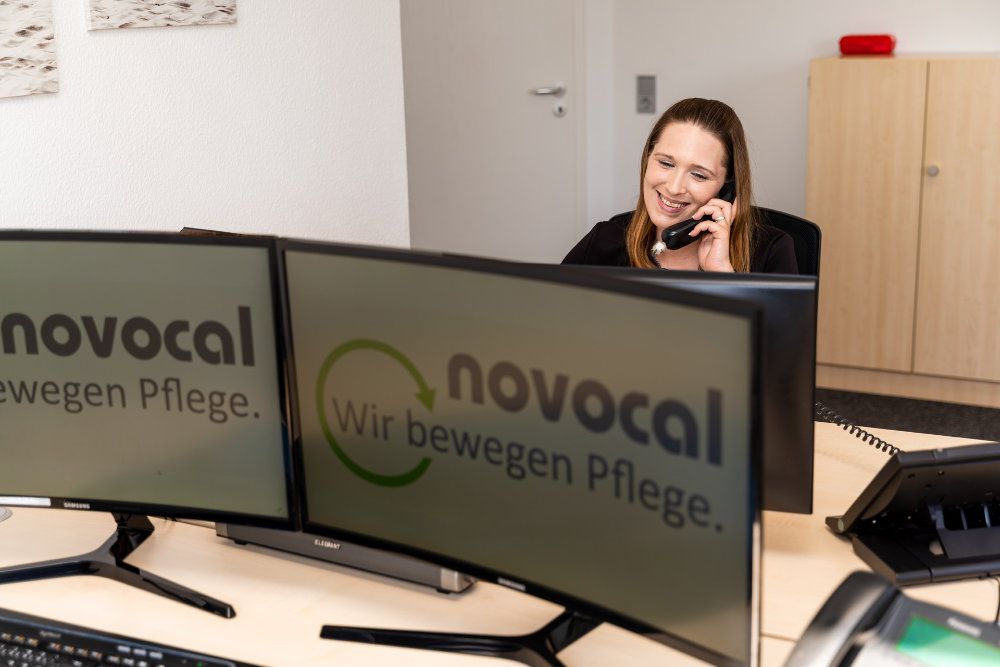 Customized Solutions
At novocal there are no classic off-the-shelf products. All of our functional furniture has numerous configuration options. These can be different colours, different drawer heights or special functions that can be selected individually for each product when ordering. There is no minimum order quantity. Even in larger orders it is possible to select every single product in a different colour or configuration if required.
Should your wishes not be sufficiently covered by these customisation options, there is also the possibility of putting together elaborate special designs so even the most unusual bespoke customer requirements can be fulfilled. The care options available become as individual as the people you care for.
Friendliness internally and externally
Friendly service is a matter of course for us. In order to be able to treat every customer and distributor in a friendly manner, a high degree of internal satisfaction must first be ensured. Our employees enjoy working at novocal. This can be recognized by the number of long-term employees, some of whom have been with us since the beginning. This creates a sense of togetherness that offers the best basis for top products and optimum service with the company's interest firmly at heart.
Our definition of friendliness also includes fair dealings with our partners. While some functional furniture manufacturers are trying to circumvent the middleman and sell products directly to the hospitals and care facilities, we rely on close, trusting cooperation with the distributors. That is why we focus on trader loyalty, honesty and respect.
Full service from consultation to delivery
Our production from a single source enables a high degree of transparency towards our customers. All employees at novocal are aware of the status of the individual order and are able to answer customer enquiries regarding the delivery time or the status quo.
However, our all-round service does not end with the production of your products. At novocal we have our own truck company which can deliver your order to your desired location. With optimal packaging materials and digital fleet management, we can ensure that the goods arrive undamaged and rapidly. Our freight forwarders are always available for questions about your new functional furniture.
Highest quality standards
novocal is particularly proud of placing the highest quality demands on its own products, which go far beyond the standard and statutory requirements. In addition, we have developed our own standards and systems for quality assurance, so that our functional furniture can withstand the workplace demands and stresses over many years to decades.
The components that we cannot produce in our own stainless steel production due to the need for special machinery are not purchased from randomly selected low-cost suppliers. Even our suppliers, with whom we have been working together for many years, must meet our quality standards. Only if we are fully convinced of the quality of a component, will we use it in our functional furniture. We are fully aware that any failure of our products could jeopardize the smooth operation of hospitals and healthcare facilities, or even the physical integrity of patients and staff, which is the reason we set the standards so high.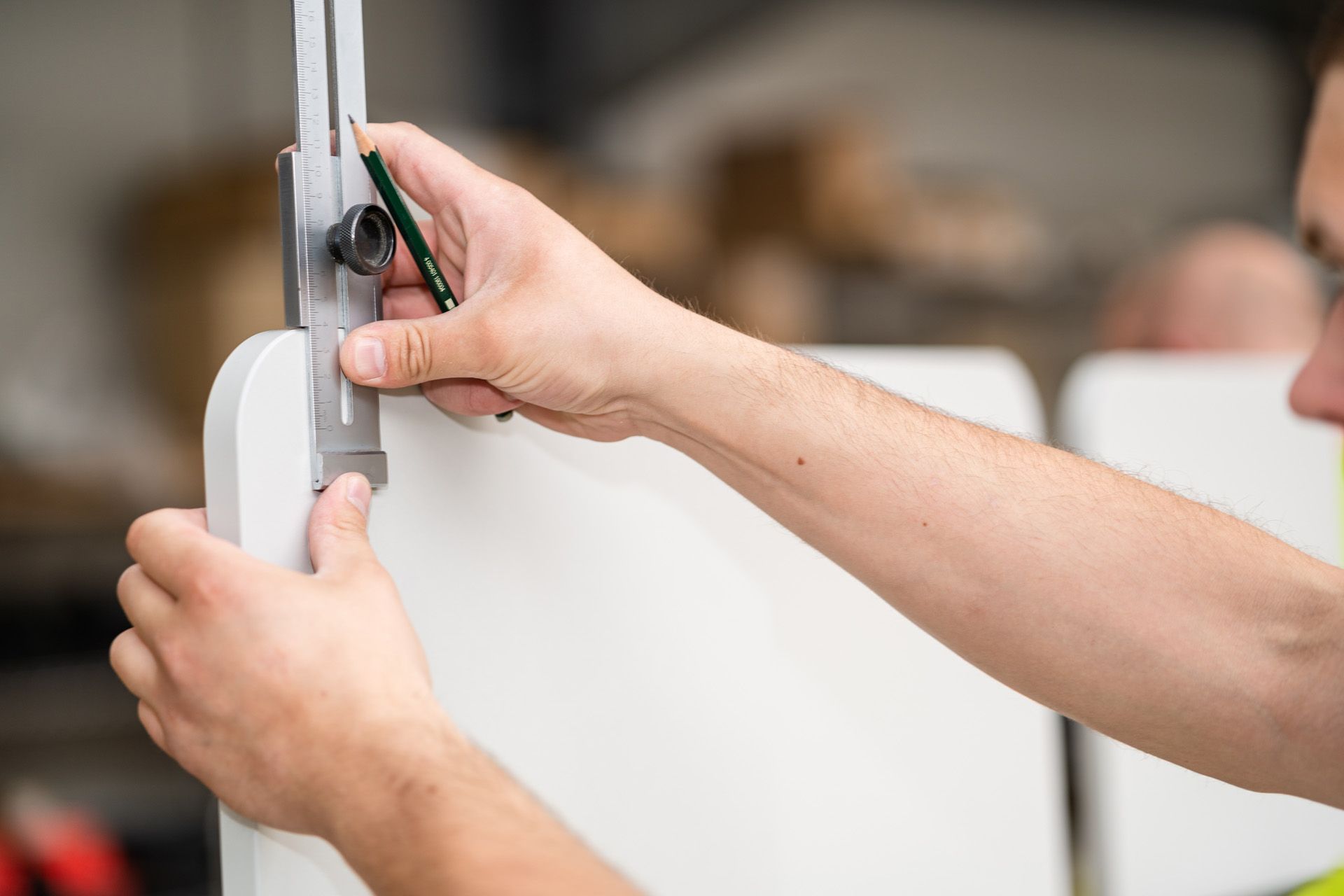 novocal - a strong partner for care facilities and hospitals
Through our all-round service from production to delivery and our passion for our products, we are the ideal partner when it comes to functional furniture in the healthcare sector. We are pleased to have brought more movement into healthcare everyday life for over 20 years and hope we have been able to explain more about our history and highest of standards to you on this website.
Individual, innovative products of high quality, to support the work of care givers, nurses and hospital employees in the best possible way – this is what novocal stands for today as well as in the future.