Catheter trolley: Minimum equipment for maximum benefit
Well prepared with the catheter trolleys from novocal: Good preparation is necessary for minimally invasive examinations, such as a cardiac catheter examination. The trolleys enable a protected and clearly arranged storage of, for example, heart catheters which are subject to special storage conditions due to their length.
But also other types of catheters find sufficient space on the hooks and provide structure and clarity.
A special care trolley…
The catheter trolley is a special variant of the novocal care and nursing trolleys. Due to its construction and its equipment it is optimally suited for the hygienic storage of catheters.
…for special activities
"Catheter" is derived from the Greek and means "tube" or "to lower, throw down". Catheters are tubes or pipes with different diameters and made of different materials. A catheter is used to examine, empty, fill or flush hollow organs.
Due to the wide range of medical applications, there are many different types of catheters. With the two differently designed catheter trolleys from novocal, one trolley will certainly fit your requirements. These trolleys are basic models and can be adapted to your wishes at any time.
Catheter trolley KW01:
Open, functional and clearly arranged
The trolley superstructure offers space for 21 types of catheters, which can be easily hung on stainless steel hooks – each shelf holds seven.
The cabinet section is open at the front and has two integrated shelves. There is sufficient storage space for necessary utensils. The two standard push handles mounted on the left and right of the trolley ensure smooth navigation. This allows you to move easily even heavily loaded trolleys from A to B.
The four swivel castors with a diameter of 125 mm, 2 of which are equipped with a stop function, also ensure easy driving.
Catheter trolley KW02:
Storage and transport behind closed doors
The catheter trolley KW02 is narrower than the catheter trolley KW01 and at the same time slightly wider and higher. Behind the two revolving doors are module carrier walls for the use of different modules. Because of this, this trolley impresses with a larger individual design of the interior. On the left side, modules measuring 300 x 400 mm can be inserted, on the right side there is space for modules measuring 600 x 400 mm. Underneath, there are four pairs of telescopic pull-outs, each equipped with seven pairs of hooks for catheters.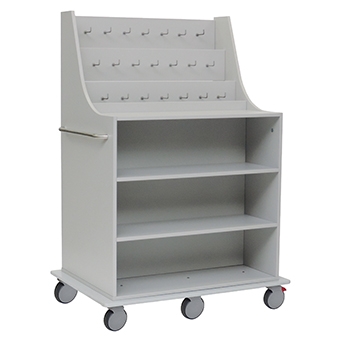 KW01
image with optional accessories BS4L and BS4R
Breadth x Depth x Height in mm
1120 x 790 x 1640
Contact us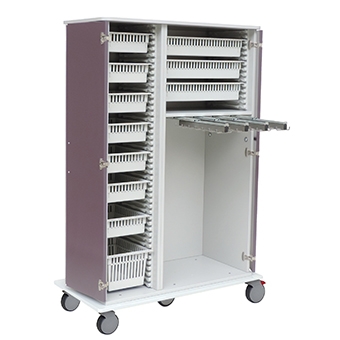 KW02
iamge with optional accessories BS6R, MTW and diff. modules
Breadth x Depth x Height in mm
1132 x 570 x 1680
Contact us
Do you have any questions concerning our products?
Please use the contact form. We will be glad to answer your request. Of course we will treat your data confidentially.
A transfer to third parties is excluded.