Mobile endoscopy trolleys
The endoscopy trolley from novocal offers a mobile and comfortable working basis for routine examinations as well as complex procedures and techniques. It has been specially developed for endoscopic examinations. The endoscopy trolley comes with drawers in various heights and numerous accessories as standard equipment.
With the endoscopy trolley you receive a care trolley that is well thought-out and fits perfectly into the working area of endoscopy both functionally and optically.
It is worth to have a look inside
Endoscopy uses an endoscope to examine body cavities and hollow organs in the human body to determine possible irregularities. For a trouble-free endoscopy, the right instruments must be stored within easy reach as well as hygienic and clearly.
Endoscopy trolley:
features of the chassis
The chassis of the endoscopy trolley consists of a continuous all-plastic plate. At the same time, this serves as a wall deflector frame. The body is made of high-quality special panels of quality class E1 with a melamine resin coating on both sides and a 2 mm thick safety edging.
The trolley working surface has rounded corners.
Four smooth-running castors with a diameter of 125 mm, two of which have a stop, ensure quiet and easy driving. A push handle is mounted on the right.
Endoscopy trolley:
equipment and accessories
double-row euro-rack, height adjustable
extended euro-rack on the left side for disinfectant dispenser (500 ml) with drip pan
infusion-bottle holder on the right side, height adjustable
optional: Medibox set
box for PE-forceps
2 drawers (front panel height: 96 mm and 128 mm)
8 drawers (front panel height: 160 mm)
Plastic waste bin 15 litres incl. stainless steel holder
3 reasons for the endoscopy trolley

1. the novocal endoscopy trolley is durable.
Differentiated quality control, high-quality materials, and years of experience in the production of functional furniture guarantee a long service life.

2. The novocal endoscopy trolley saves time.
The drawers provide a very good overview, hygiene-relevant processes such as hand disinfection, waste and cannula ejection are supported and infusions can be prepared quickly and easily thanks to the height-adjustable holder.

3 The novocal endoscopy trolley is individual.
Choose the decors for drawers and side walls as desired and combine the trolley with a wide range of accessories.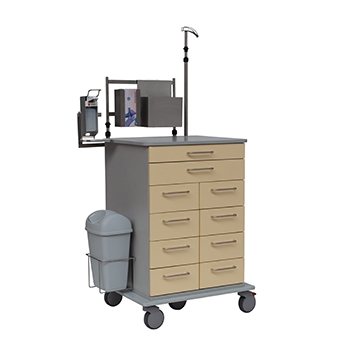 ENDO61000
image with optional accessories DMS5PAW, TS5PAW, ES2H, HSB1, EBHES, BS6R, ENDOHR and KB15-E-PAW
Breadth x Depth x Height in mm
Cabinet:
656 x 600 x 905
Total:
780 x 680 x 1085
Contact us
Do you have any questions concerning our products?
Please use the contact form. We will be glad to answer your request. Of course we will treat your data confidentially.
A transfer to third parties is excluded.