Tea carts and tray trolleys: meals (and drinks) on wheels
Anyone equipping waiting areas should keep the well-being of patients and visitors in mind. With tea carts, beverages of all kinds are transported quickly and stored safely so that they are available immediately.
The mobile tray trolleys also make it easier to serve food or collect trays in dining areas.
Mobile tea cart
Beverages such as coffee, tea and water boxes as well as the corresponding cups and glasses find a safe and clearly arranged place in the tea cart. Everything is within easy reach and can be quickly put away or removed. The tea carts can be used flexibly at different locations.

Features of the tea cart
The roof of the tea cart has rounded corners. On the one hand, this gives the trolley an attractive appearance, on the other hand, the rounded corners minimise the risk of injury to staff and patients. The three-sided stainless steel tube gallery protects objects on the trolley roof from falling down.
Drawers are equipped with softclose.
Five easy-running castor wheels (diameter 125 mm), two of which have a stop function, make it easier to navigate the serving trolley.
The tea cart is made of special sheets and worktops of quality class E1, which are coated on both sides with melamine resin and have a 2 mm thick safety edge foil.

Division of the tea cart
The special feature of the tea cart is its layout:
At the top left there is a large drawer (4 RU – approx. 256 mm) with a viewing window made of arcrylic glass.
Underneath there is an open compartment with stainless steel device for two beverage crates. The crates can be positioned at an angle in the serving trolley to facilitate removal of the bottles. The inside width is approx. 600 mm.
Three height-adjustable shelves can be individually attached to the right open side of the tea cart; the inside width is 140 mm. This is the right place for coffee, tea, sugar or pastries, for example.
When the trolley is delivered, you will receive a leaflet from us with instructions on how to fill the tea cart correctly.
Tray trolley
Open and closed tray trolleys are suitable both for serving food and for collecting trays, for example in the dining room or cafeteria. Here novocal offers different tray trolleys in various sizes.
Tray trolley series "TW"
The front of the "TW" tray trolley consists – depending on your requirements – either of two 270° hinged doors or has a lockable roller blind. The trolley is equipped with a girder support system for modules on the inside and is divided in the middle. As standard, the tray trolley is supplied without a lateral push handle. This is optionally available at an extra charge.
The tray trolley is designed for trays up to 440 mm wide and 530 mm long (EN standard 370 x 530 mm, GN standard 325 x 530 mm).
Body and front colour can be combined individually according to the novocal colour palette. This turns a simple tray trolley into a real eye-catcher on the ward or in the canteen.

Chassis of the tray trolley
continuous solid plastic plate (this also serves as a wall deflector frame)
4 castor wheels ø 125mm, 2 of which are stop castors for easy handling

Cabinet section of the tray trolley
special high-quality sheets of quality class E1 with a melamine resin coating on both sides
2 mm safety edge foil
standard colour light grey (LG), special colours on request
Open tray trolleys
The open stainless steel tray trolleys are particularly suitable for the food supply sector. Their hygienic surface is very easy to clean. They are available in one or two rows and hold trays measuring 530 x 325 mm.
tray supports made of 6 mm stainless steel round material with tilt and push-through protection
distance between the trays is 150 mm each
4 buffer plates
4 easy-running castor wheels with a diameter of 125 mm, 2 of which have a stop function
Tea carts and tray trolleys at a glance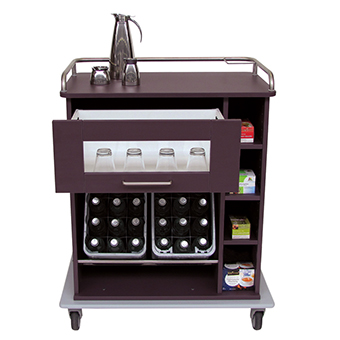 FS8100
mobile tea cart                              
Breadth x Depth x Height in mm
Cabinet:
800 x 490 x 905
Total:
920 x 570 x 1170
Contact us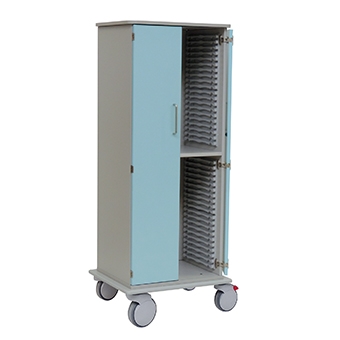 TWD
tray trolley with hinged doors
Breadth x Depth x Height in mm
TWDEN (EN-Norm):
Cabinet:
585 x 490 x 1450
Total:
705 x 570 x 1630
Contact us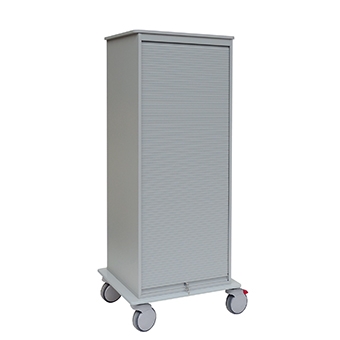 TWR
tray trolley with roller blind
Breadth x Depth x Height in mm
TWREN (EN-Norm):
Cabinet:
585 x 490 x 1450
Total:
705 x 570 x 1630
Contact us

Do you have any questions concerning our products?
Please use the contact form. We will be glad to answer your request. Of course we will treat your data confidentially.
A transfer to third parties is excluded.