Healthcare IT trolleys: A step towards digitalisation
Computer trolleys, modern IT equipment and IT processes are used to assist digitalisation: electronic patient files, digitised processes and telemedicine are just a few examples of the broad spectrum of what is meant by digitalisation.
novocal's diverse computer trolleys and laptop trolleys offer profitable support for the digital age.
Patient documentation undergoes a change
So, the question is, why would you use one of novocals versatile computer trolleys for your electronic patient documentation?
Anyone who is in daily contact with patients and residents in hospitals and care facilities receives a huge amount of information every day, all of which must be recorded accurately and methodically. IT can play a vital role in this process, from providing a simple patient database to documenting the full course of an illness in an easily auditable format. What is the general condition like, what do the x-rays look like, and what therapy do they provide? How can you possibly prevent more falls or contain infections? All these and many other data entries can be derived from the digital documentation, as long as the data is:




registered conscientiously
evaluated comprehensively
entered in analytical contexts
Digital aids can support direct patient contact with the care professional through:
Displaying explanatory videos
Immediate access to all patient data
Immediate recording of new patient information
Flexible computer trolleys for flexible processes
Many health care facilities have already taken the first steps towards digitalisation. novocal aims to be part of that digital future, and is developing a wide range of computer trolleys that can be used to work faster, easier and even more individually. Our computer trolleys offer a wide range of ergonomic and efficient options for supporting and simplifying the digital processes.
Computer trolleys Series 4000, 5000 and 6000
Since the work processes in hospitals and care homes are similar, but still individual, the IT aids must also be flexible and mobile. The classic computer trolley fulfils all your essential needs: Variable pull-outs, compartments and door options as well as a push handles for easy navigation around the workplace. 
In addition, novocal offers special computer trolleys, which are similar to the ones explained above, but are more comprehensively equipped. They have a fixed monitor holder as standard, and offer additional storage space in various drawers or module inserts.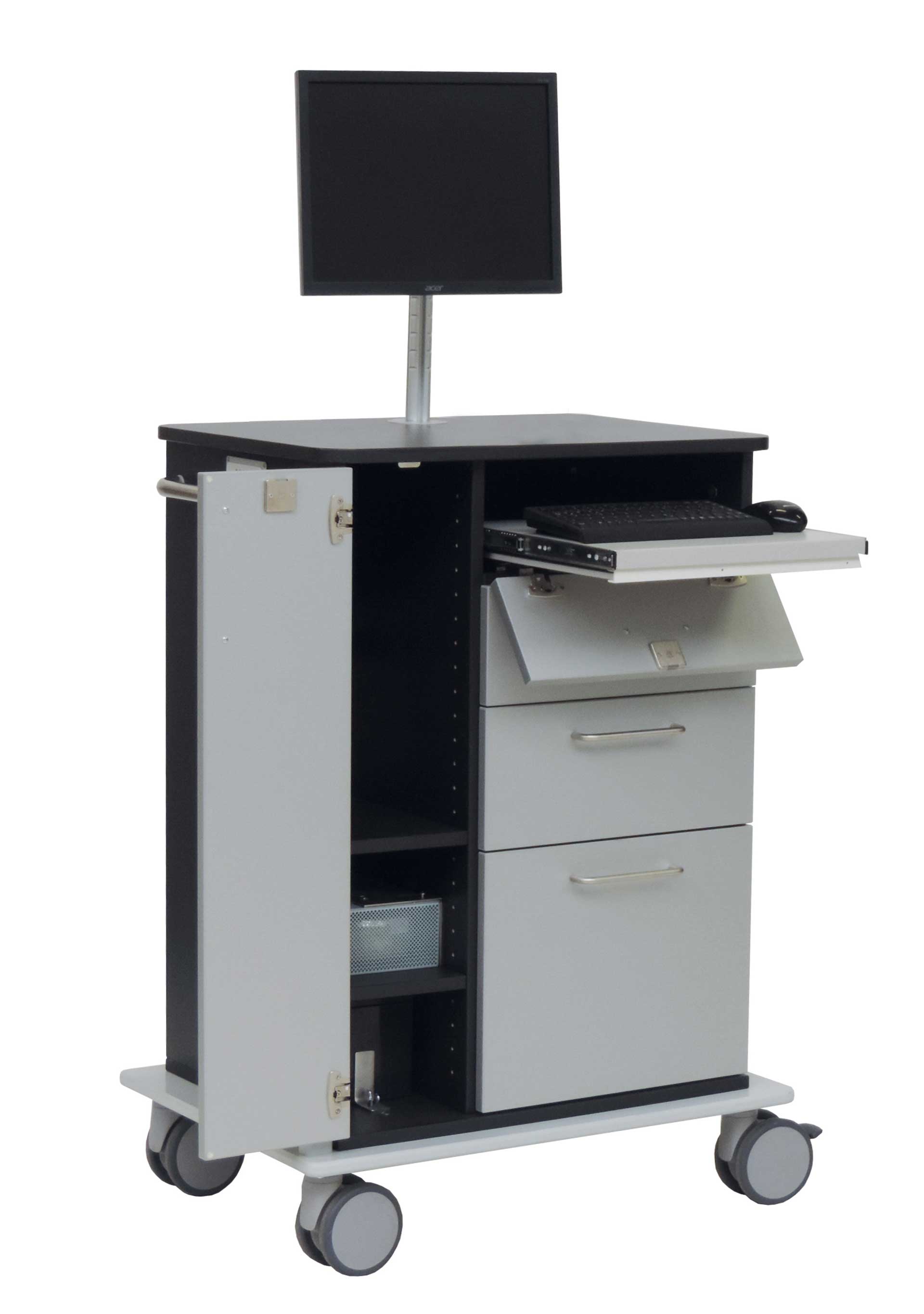 Laptop trolley – classic or height adjustable
These special computer trolleys are designed specifically for the use of laptops and are equipped either with a lowerable and lockable laptop shelf, or with a laterally extendable laptop compartment. For additional comfort and ease of use we have available our height-adjustable laptop trolley: It allows different working heights for ergonomic work and is equipped with three drawers as standard.
Flexible, mobile, self-sufficient - the iPad trolley
The iPad trolley is ideal for even faster and uncomplicated documentation. This computer trolley model is an ergonomically shaped business trolley with a slanted work surface. Any iPad, or indeed any tablets from other manufacturers, can be quickly integrated and operated as required.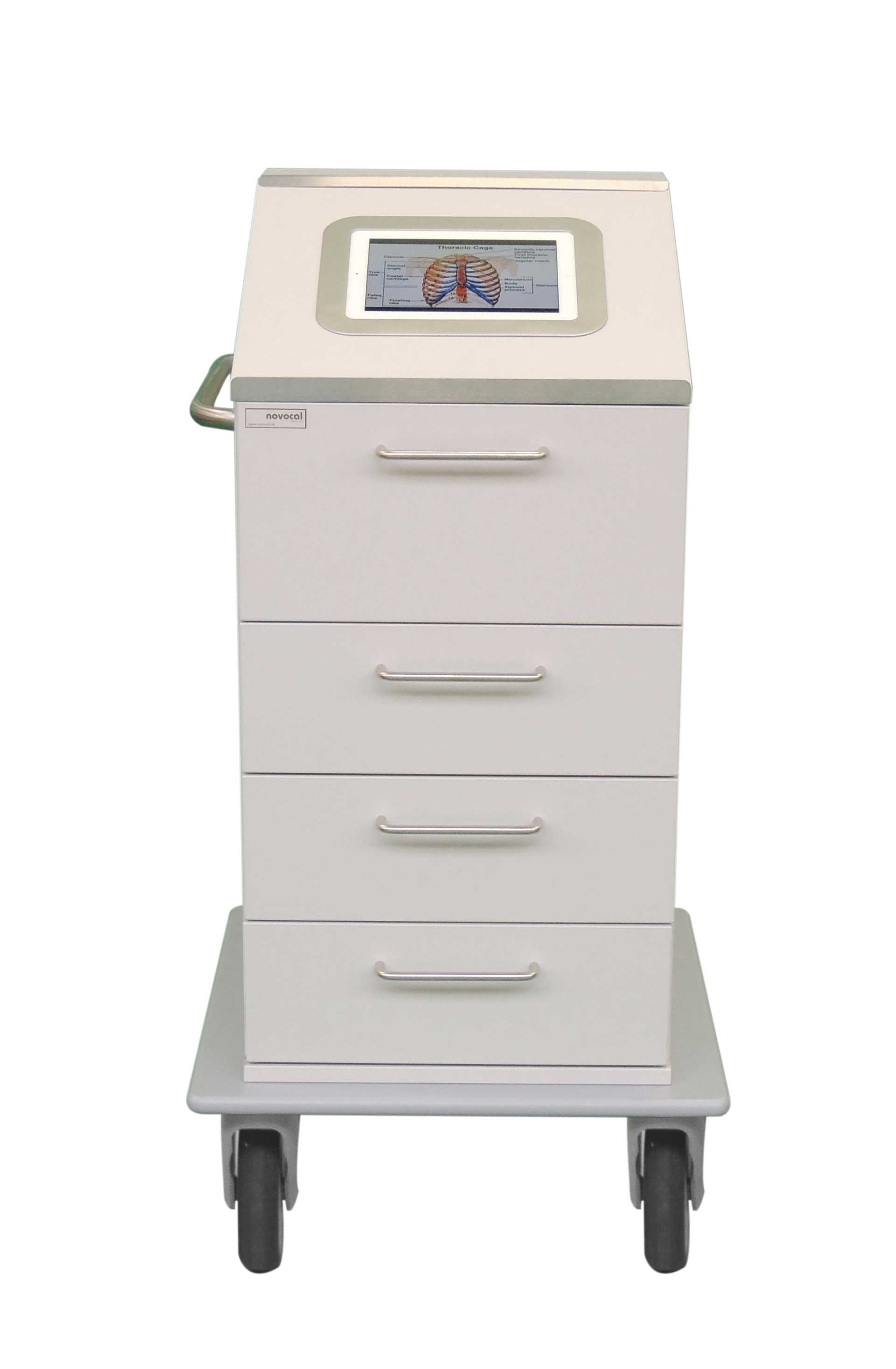 Computer cart power supply - durable and unobtrusive
Whilst our digital age is indeed a huge step forward in accurate, timely and efficient recording of information, they are inevitably dependent upon power to operate them. With our computer cart power supply system, novocal offers a self-sufficient power supply for all computer trolley variants as well as for most care and work trolleys. This means that all devices can be supplied with sufficient power at all times and can be charged as required.
We set care in motion - and we would like be part of your digital transformation!
If you wish to enter or develop your digital change, you will need dependable digital equipment. To find a reliable manufacturer of the digital equipment, you may have to consider the following prerequisites:
The manufacturer should have many years of experience in the production of functional furniture for the health care sector, as well as
Experience in digital processes, paperless working and networked structures.
As a competent manufacturer, novocal has been active in the functional furniture market for over 20 years developing computer trolleys specifically for the healthcare sector. Since 2012, novocal itself has been progressively and successfully digitised including: digital truck fleet management, digital order transmission, production and 3D barcode delivery notes, digital CRM, digital accounting, and paperless working throughout the company. We know first-hand just how valuable digital working can be and how best to streamline processes for your work environment.  
novocal will always be the right choice!
novocal is constantly moving forwards – care to join us?
At novocal, customer communication, documentation and quality management use digital processes, so we know just how digitisation can help to run businesses and, in particular, the health and care sector. We highly recommend digitally supported communication with your patients, paperless documentation for your staff, and multimedia-enhanced therapy amongst a whole host of other benefits with IT solutions.
Take the first step and enrich your care environment with novocal computer trolleys today.
All Computer Trolleys at a glance