Ergonomic documentation trolley: comfortable and practical
The ergonomic documentation trolley is perfectly designed for patient documentation in everyday nursing care. Back-friendly working, flexible use and a practical layout characterise the trolley. The slanted working surface allows comfortable working at any location.
The documentation trolley is a reliable and mobile instrument for rapid patient documentation.
Patient documentation – why it is so important
With his license to practise medicine, the doctor has committed himself to adhering to certain general conditions during treatment. This includes the obligation to document the medical treatment. This is the basis for a treatment relationship between patient and doctor. Nursing staff also enter data in the patient file for information and further therapy. In this way, a good quality of care can be maintained.
Tasks of patient documentation
The following objectives are pursued in patient documentation:
Proper treatment of a patient
Memory aid and information base for all persons involved in the treatment
Ensuring good treatment and therapy
Justification and proof of various steps within the framework of diagnosis and therapy
serves research and scientific purposes, e.g. by introducing a medical student to specific topics through patient documentation
Documentation trolley in use
Whether on paper or digital – there is no way around patient documentation. The Ergonomic Documentation Trolley makes documentation effortless. You are mobile and have all important utensils stowed away in the drawers. The compact dimensions make the documentation trolley a worthwhile companion in everyday care.
Documentation trolley on request
The lower section of the trolley is available with drawers, compartments, document drawers, doors or folding doors. The ergonomic documentation trolley is supplied with a side handle as standard.
Chassis and cabinet part
Chassis made of continuous solid plastic plate (which also serves as wall deflector frame) with 4 swivel castors Ø 125 mm, 2 of which are stop castors
cabinet part made of high-quality special boards of quality class E1 with a melamine resin coating on both sides
2 mm safety edging
Drawers on telescopic slides with Softclose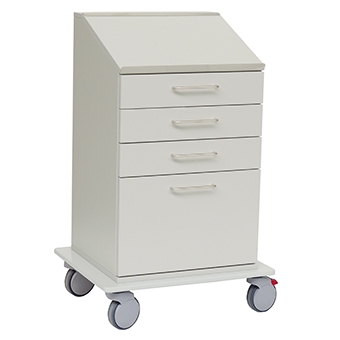 EDW5310
3 drawers, 1 document extract                       
Breadth x Depth x Height in mm
Cabinet:
550 x 490 x 905
Total:
670 x 570 x 1085
Contact us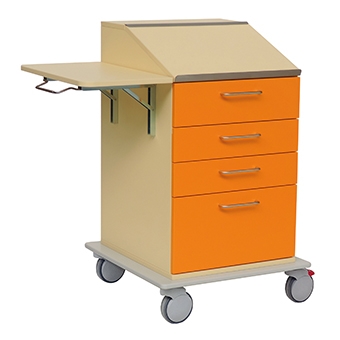 EDW5310
3 drawers, 1 document extract
image with optional accessory SPA1L
Breadth x Depth x Height in mm
Cabinet:
550 x 490 x 905
Total:
670 x 570 x 1085
Contact us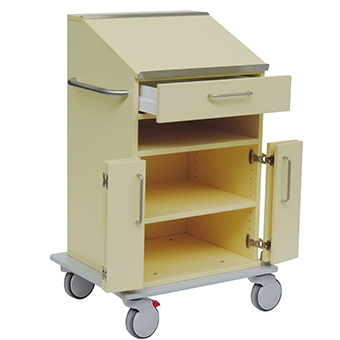 EDW5102
1 drawer, 1 hinged-folding door
with optional accessories HMF and BS4L
Breadth x Depth x Height in mm
Cabinet:
550 x 490 x 905
Total:
670 x 570 x 1085
Contact us
Do you have any questions concerning our products?
Please use the contact form. We will be glad to answer your request. Of course we will treat your data confidentially.
A transfer to third parties is excluded.