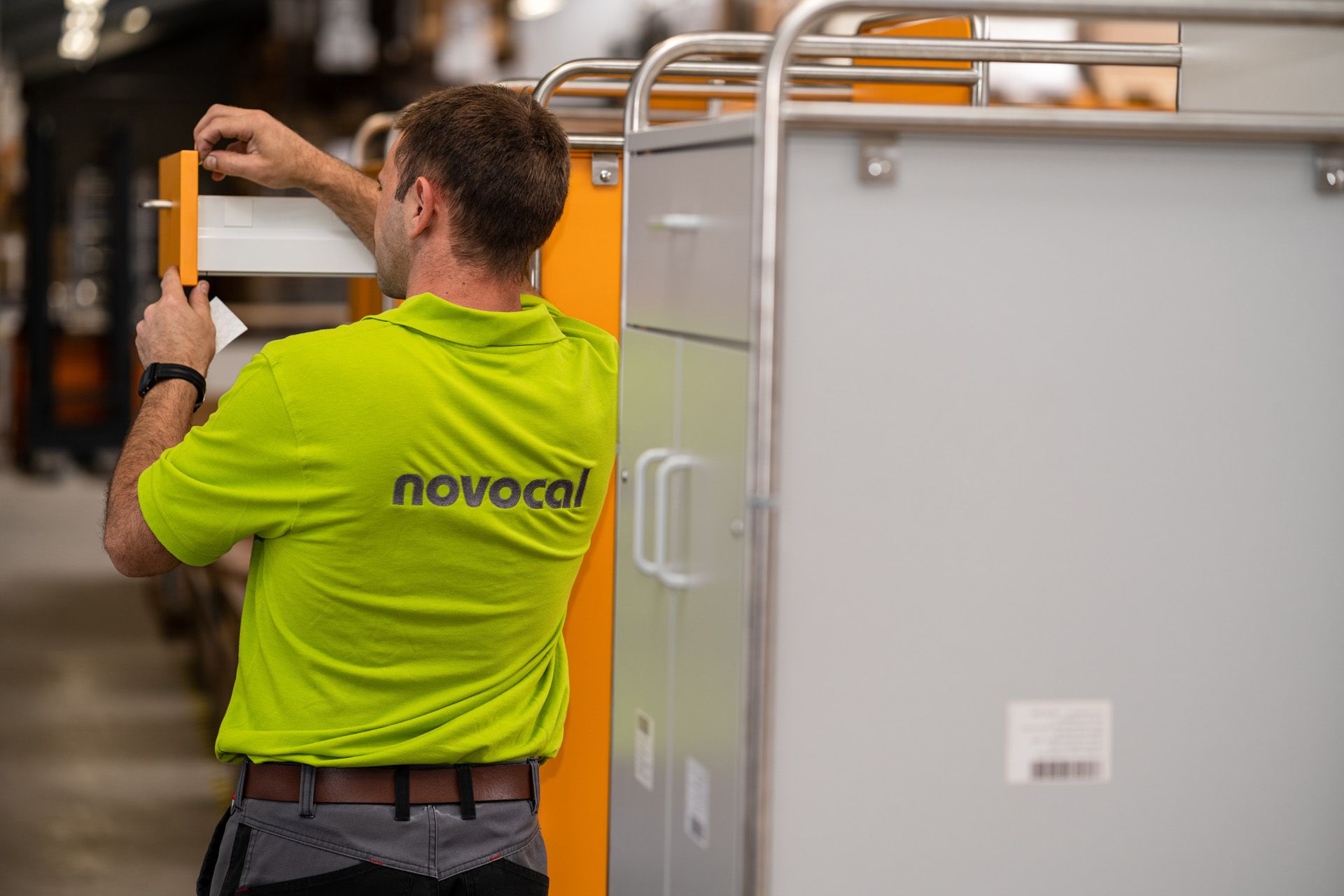 Storing, sorting and distributing laundry with sorting trolleys
Sorting trolleys, rack trolleys and sorting rack trolleys are used in the laundry supply sector. Slightly damp or freshly mangled laundry can be dried up through the open construction, so that mould and mildew stains are avoided.
Different models and variants make a simple coat rack a real all-rounder. Transport lying and hanging laundry with only one sorting trolley and save valuable time.
Rack trolley for transporting goods
Goods of different shapes and sizes are transported and stored with the novocal rack trolley. The rack trolley is characterised by a high load capacity. No cross-beams are required. Nickel-plated and high-gloss chrome-plated precision steel is used as the material.
The rack trolleys are equipped with four grid shelves and corner posts as standard. Height of the shelves can be adjusted in 25 mm increments. Four castor wheels with a diameter of 150 mm, two of them with double stops, complete the equipment.
In total, the trolley can be loaded up to approx. 300 kg, max. 50 kg per shelf.
The rack trolleys can be ordered in two heights (1550 mm/1850 mm) and two depths (457 mm/610 mm).
Additional shelves and other accessories can of course also be retrofitted.
Sorting shelf trolleys
The sorting rack trolleys are particularly suitable for the storage and distribution of hospital laundry as well as private residents' laundry in the nursing home sector. In comparison to ordinary rack trolleys, the sorting rack trolleys have dividers to divide a shelf into several areas.
Sorting rack trolleys with five or six grid shelves are available. The individual compartments are provided with label frames so that they can be individually labelled and sorted. Four castor wheels with a diameter of 150 mm (two of which have double stops) complete the equipment of the sorting shelf trolleys.
An extendable clothes rail can be fitted to all sorting trolleys on request.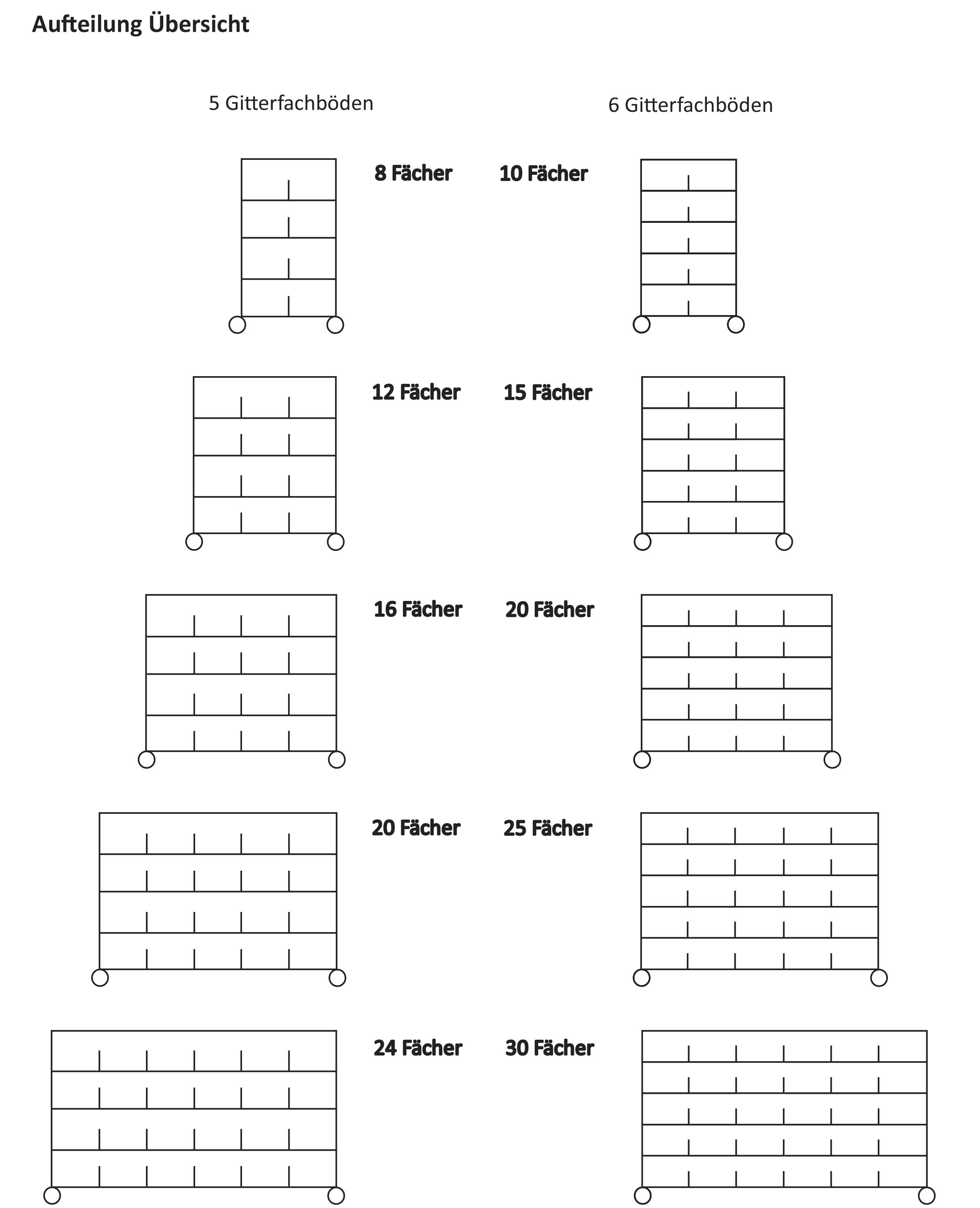 Combined sorting trolley and coat rack
The combined sorting trolleys are an intelligent solution for storing laundry both lying down and hanging. An optional clothes rail makes the sorting trolley even more clearly arranged and is ideal for long linen and work clothes.
The front sides of the shelves are each separated by two edge rods. Shelf dividers, label frames and clothes rails are supplied as standard. Furthermore, the sorting trolleys are equipped with four castor wheels, two of them with double stops.
The length of the clothes rail on the combined sorting trolleys is approx. 600 mm. We also offer pure lab coat stands from this series. Due to the numerous accessories, the sorting trolleys can be configured individually and for every location.
Please note: All sorting trolleys and shelf systems of this series are only of limited use in outdoor areas!
All products at a glance
Please note: the models shown are only examples of our extensive range and can be configured according to your wishes at any time.

Do you have any questions concerning our products?
Please use the contact form. We will be glad to answer your request. Of course we will treat your data confidentially.
A transfer to third parties is excluded.