MRSA trolleys and infection trolleys: Fast deployment guaranteed
MRSA trolleys and infection trolleys are used as soon as a patient has become infected with the multi-resistant pathogens. MRSA is often referred to as a hospital germ, but the germ is no longer unknown in the home and outpatient care sector either.
The isolated patients must be treated immediately and extremely hygienically. This is the only way to increase the chances of containing germs in hospitals and nursing homes. The MRSA trolley (or infection trolley) offers the greatest possible support during therapy.
MRSA: Dangerous bacteria in hospitals
MRSA means methicillin-resistant Staphylococcus aureus. These bacteria are resistant to otherwise highly effective antibiotics and can become very dangerous for people with a weakened immune system and open wounds. The bacterium settles on the skin, in mucous membranes and in open wounds and can be transmitted in different ways:



Using infection trolleys and MRSA trolleys to combat germs
Every year, 400,000 to 600,000 patients in Germany suffer from hospital-acquired infections, some of which could be avoided or influenced. According to current estimates from studies, about 10,000 to 15,000 people die every year in Germany from hospital infections. Proper hand hygiene is already a simple and very effective method to prevent hospital-acquired infections.
All infection trolleys are equipped in such a way that disinfection and hygiene come first. Safety for staff and patients is thus guaranteed.
MRSA trolleys and infection trolleys for the care of isolated patients
The MRSA trolleys from novocal are isolation trolleys or infection trolleys and are used as aids in the treatment with MRSA bacteria. If a patient has become infected with MRSA bacteria, fast and conscientious action must be taken. With a closed or open rear wall, the MRSA trolleys offer space for relevant hygiene articles such as disinfectant dispensers or glove boxes. Shelves or modular baskets allow the clear storage of necessary utensils and medical equipment. The infection trolleys are easy to clean, as a high level of hygiene has been a priority during production.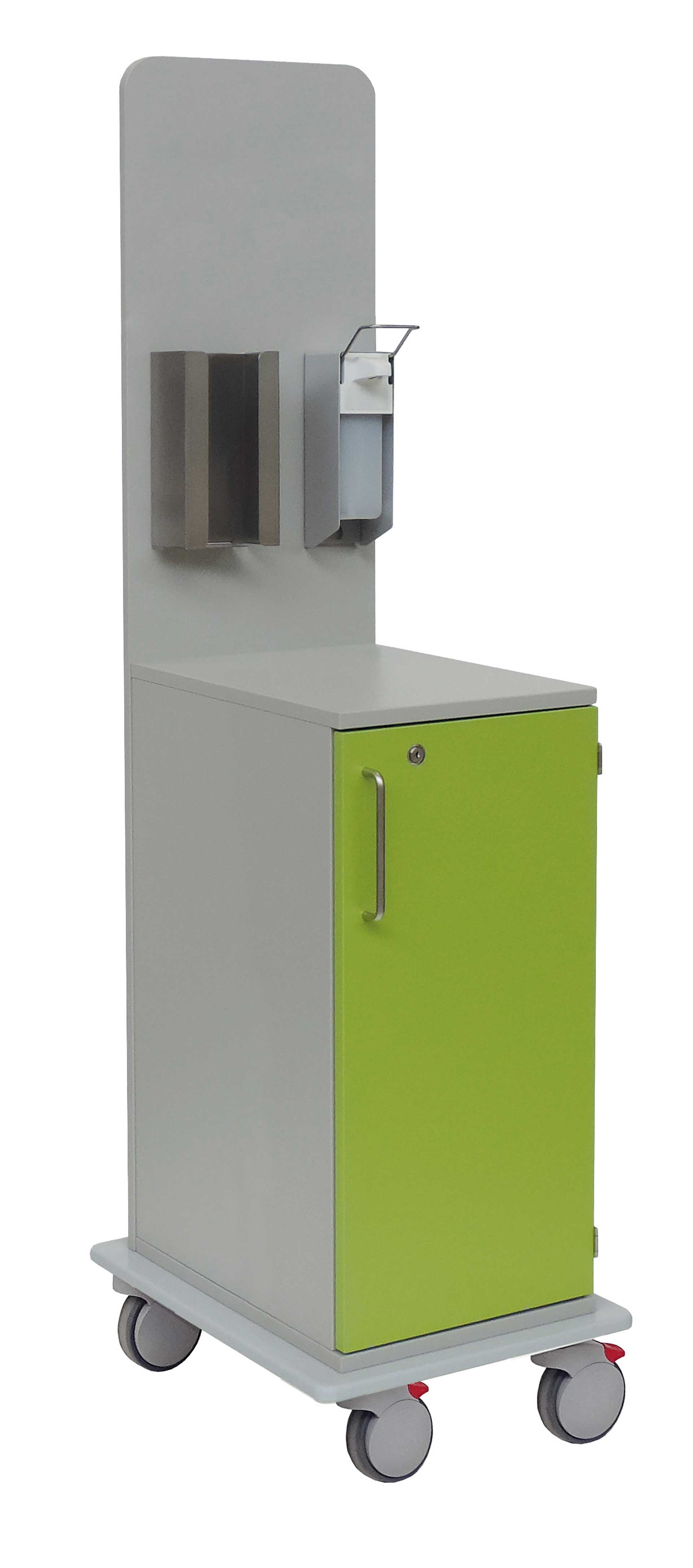 Two MRSA trolleys
against one bacterium
The MRSA trolleys from novocal offer optimal conditions in the field of hygiene management. If MRSA bacteria are detected in a patient, immediate action is necessary: The patient is isolated, treated and the strictest hygiene regulations must be observed.
The novocal infection trolleys support therapy in a single room. There are two variants of the MRSA trolleys available.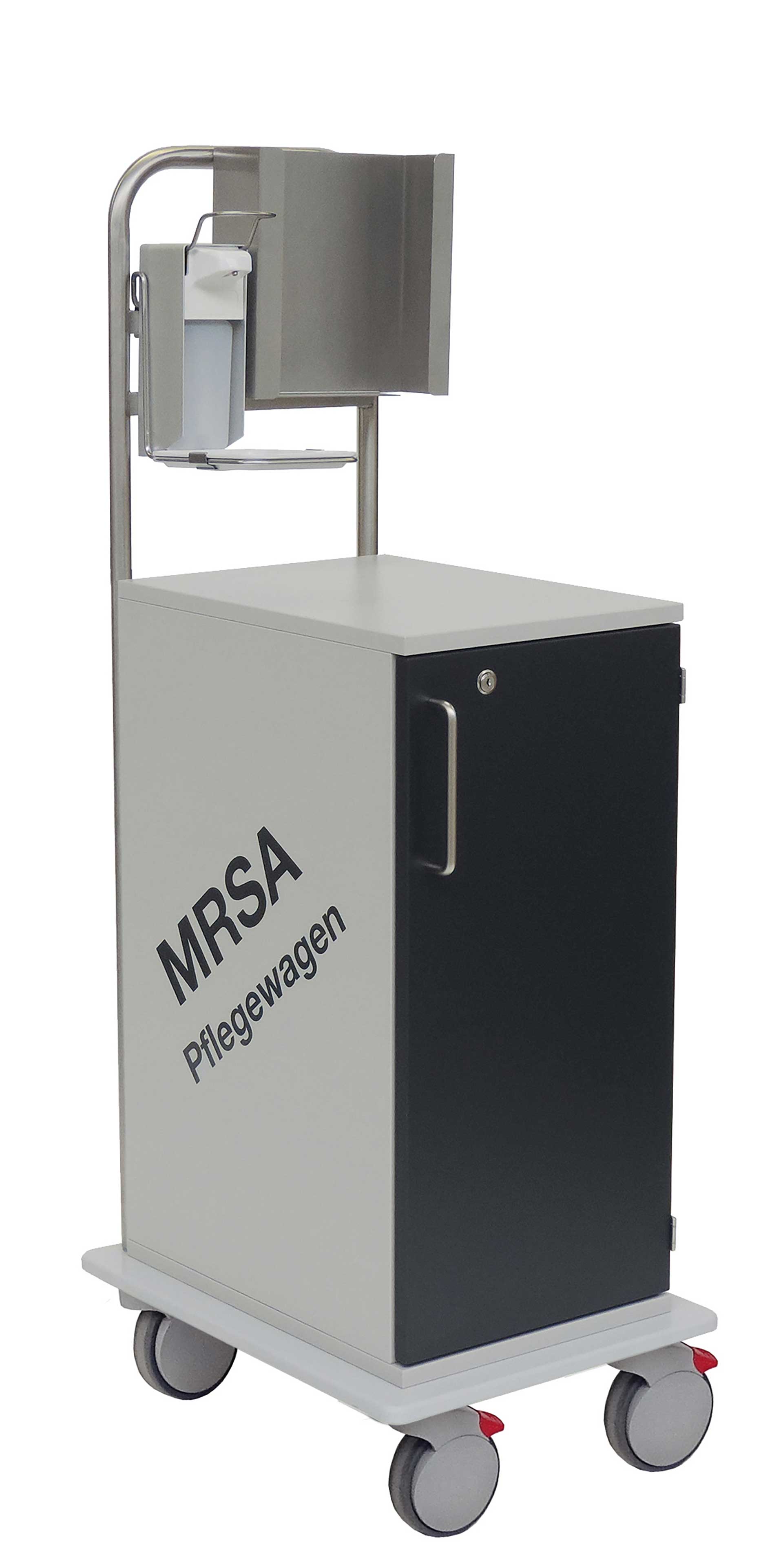 Features of the MRSA trolley MRSA1
The MRSA trolley MRSA1 features a closed, raised rear wall to which individual accessories such as disinfectant dispensers, drip pans, glove boxes, mouthguard boxes etc. can be attached. In the cabinet part with hinged door there are either two height-adjustable intermediate shelves (MRSA1F) or module support walls for modules and/or wire netted baskets in the format 400 x 300 mm (MRSA1M).
Features of the MRSA trolley MRSA2
The rear wall of the MRSA2 trolley is open and made of stainless steel round tube with a Euro rail. A wide range of accessories such as disinfectant dispensers, drip trays, glove boxes or mouthguard boxes find the right place here. The MRSA2 infection trolley can also be ordered with either shelves or module support walls.
For better identification and visibility of the infection trolleys, stickers are available in red lettering. Special colours are available on request.
Both MRSA infection trolleys have the following features:
The chassis of the infection trolley is made of a continuous all-plastic plate, which also serves as a wall rejecting frame.
4 smooth-running swivel castors with a diameter of 125 mm, 2 of which have a stop function
Choose a suitable MRSA trolley to contain MRSA quickly, hygienically and effectively. With the right MRSA trolley, you can make a significant contribution to the safety of your staff and your patients.

MRSA and infection trolleys at a glance
Please note: the models shown are only examples of our extensive range and can be configured according to your wishes at any time.
Do you have any questions concerning our products?
Please use the contact form. We will be glad to answer your request. Of course we will treat your data confidentially.
A transfer to third parties is excluded.