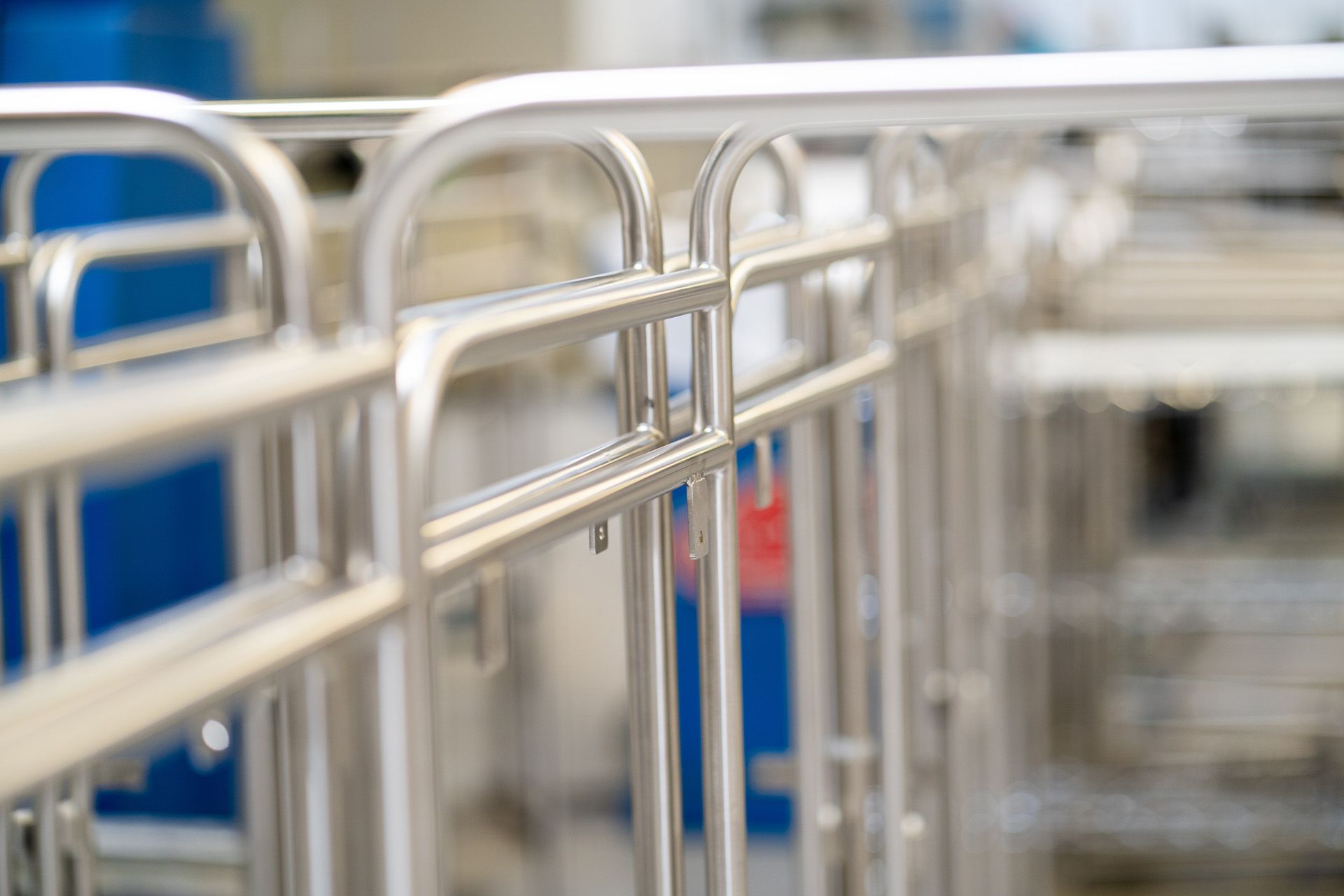 Recyclables collectors: Sorting waste with crates and containers
For sensible, correct and hygienic waste disposal, a large number of different recyclable waste collectors and waste collection systems must be available in hospitals and care facilities. Stainless steel racks equipped with plastic containers or plastic crates are one option.
Even more individuality is provided by combination models that are perfectly suited for intelligent waste disposal. Design a suitable recyclables collector and contribute to a safe and clean environment.
Recyclable waste collectors for plastic containers
These waste collectors offer an inexpensive way of separating recyclable materials using 50-litre plastic containers. The chassis of this series are made of stainless steel.
The plastic containers are characterised by their low weight and high stability. Their smooth inner and outer surfaces are easy to clean and make the waste bin extremely hygienic.
Structure of the waste collectors
polished stainless steel frame
pipe connections welded all around
4 swivel castors, diameter 75 mm, easy-running castors, rubber tyres
plastic container 50 litre capacity, colour white
with hinged lid as standard
available lid colours: White, Red, Yellow, Green, Blue, Brown, Grey and Black
Recyclable waste collectors series 2000
The 2000 Series waste collectors are also made entirely of stainless steel and are characterised by a compact design that is open at the front. With this model series, both 50 litre containers and clamping rings for plastic bags can be considered in many variations.
Due to the special design of the devices, the plastic containers are simply placed in the recyclables collector and can be removed again effortlessly after filling.
The filling opening of the containers and the clamping rings are positioned at the same height.
This, together with the open, freely accessible front of the recyclables collector, ensures that the recyclables can be easily ejected.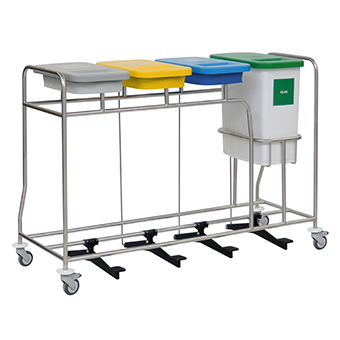 Recyclable waste collectors with coloured plastic crates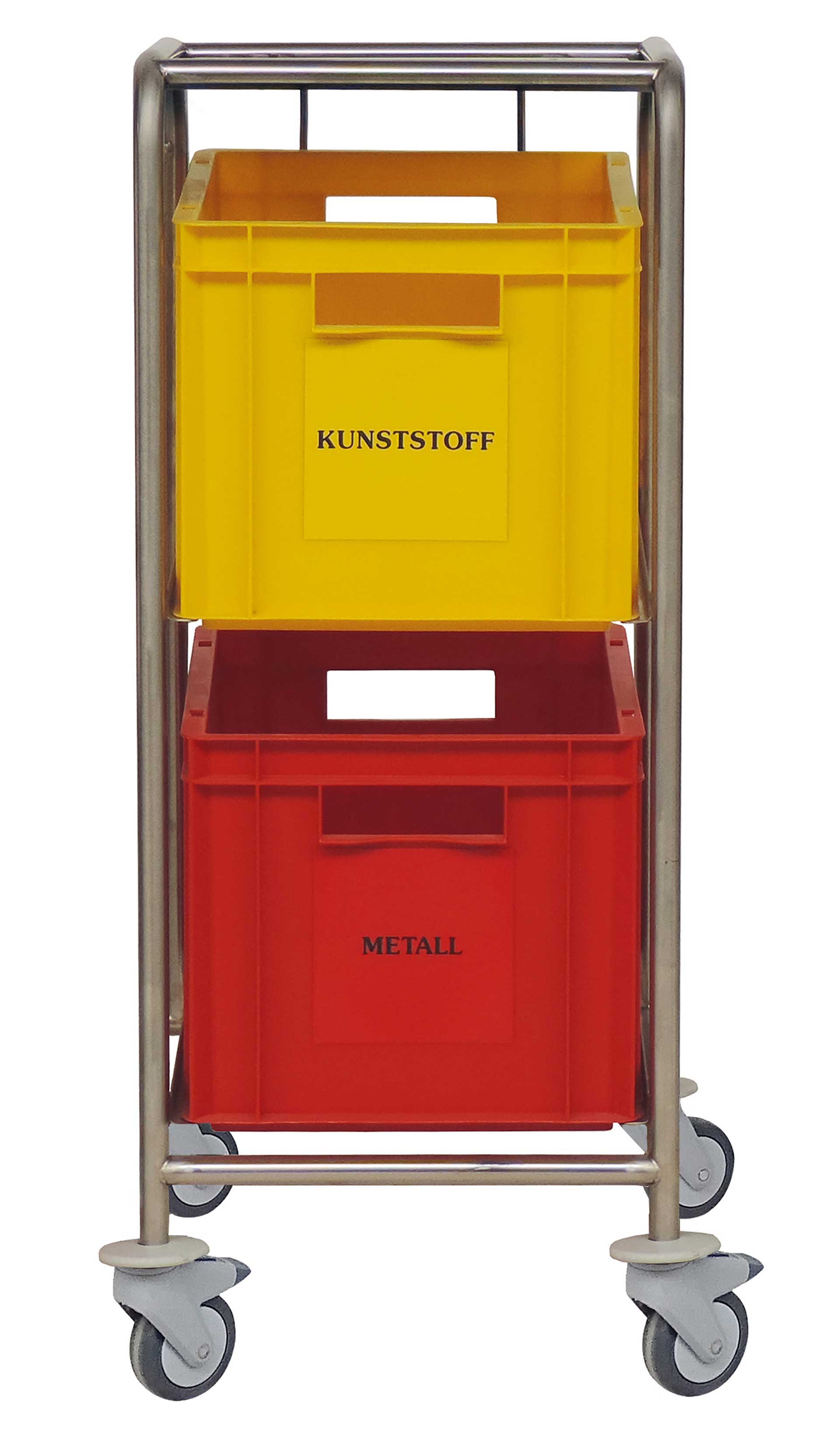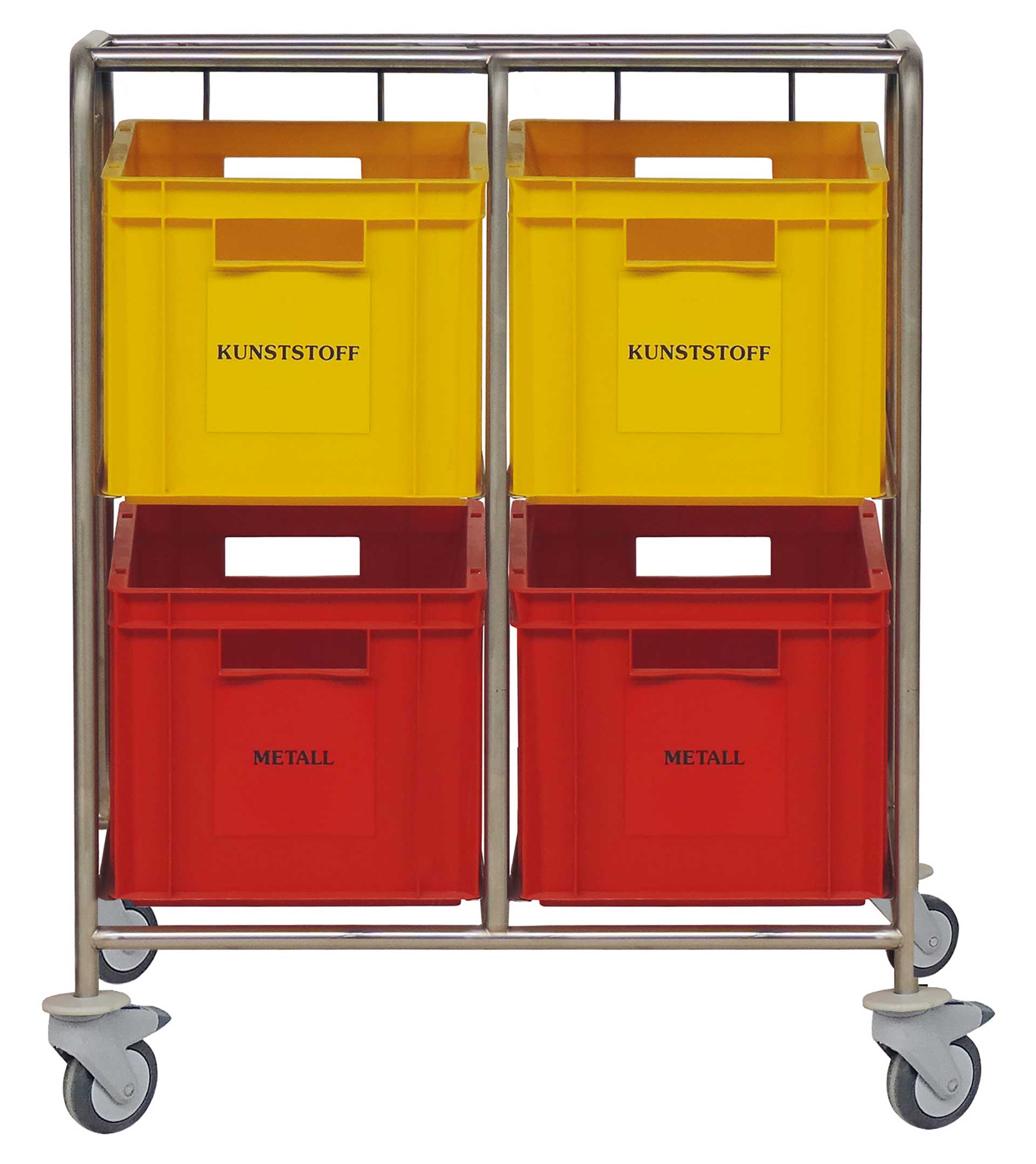 The waste collectors with coloured plastic bins are also ideal for bulky waste. Metal, glass or plastic can be collected clearly, hygienically and comfortably in the bins. The recyclables collector is constructed as follows:
Chassis of the waste collector
Frame: Stainless steel
Support rails: Stainless steel
Pipe connections welded all around
Cover plate: solid core material, white
Wheels: 4 swivel castors with a diameter of 75 mm, 2 with stop
Plastic boxes (included)
sizes: 300 x 400 x 270 mm or
400 x 600 x 270 mm
available colours: red, yellow, green, blue, grey
special colours on request
Accessories for the waste collector
Stainless steel clamping ring for plastic bags
stickers
The waste bins with plastic bins are also available in other designs, combinations and sizes on request.
Combination waste bin
The combination waste collectors can be put together individually. Combine according to your needs:
coloured plastic boxes
plastic container, 50 litres
clamping rings for plastic sacks and
pedals
A combination recyclables collector offers plenty of space and flexibility for the requirements of successful waste management.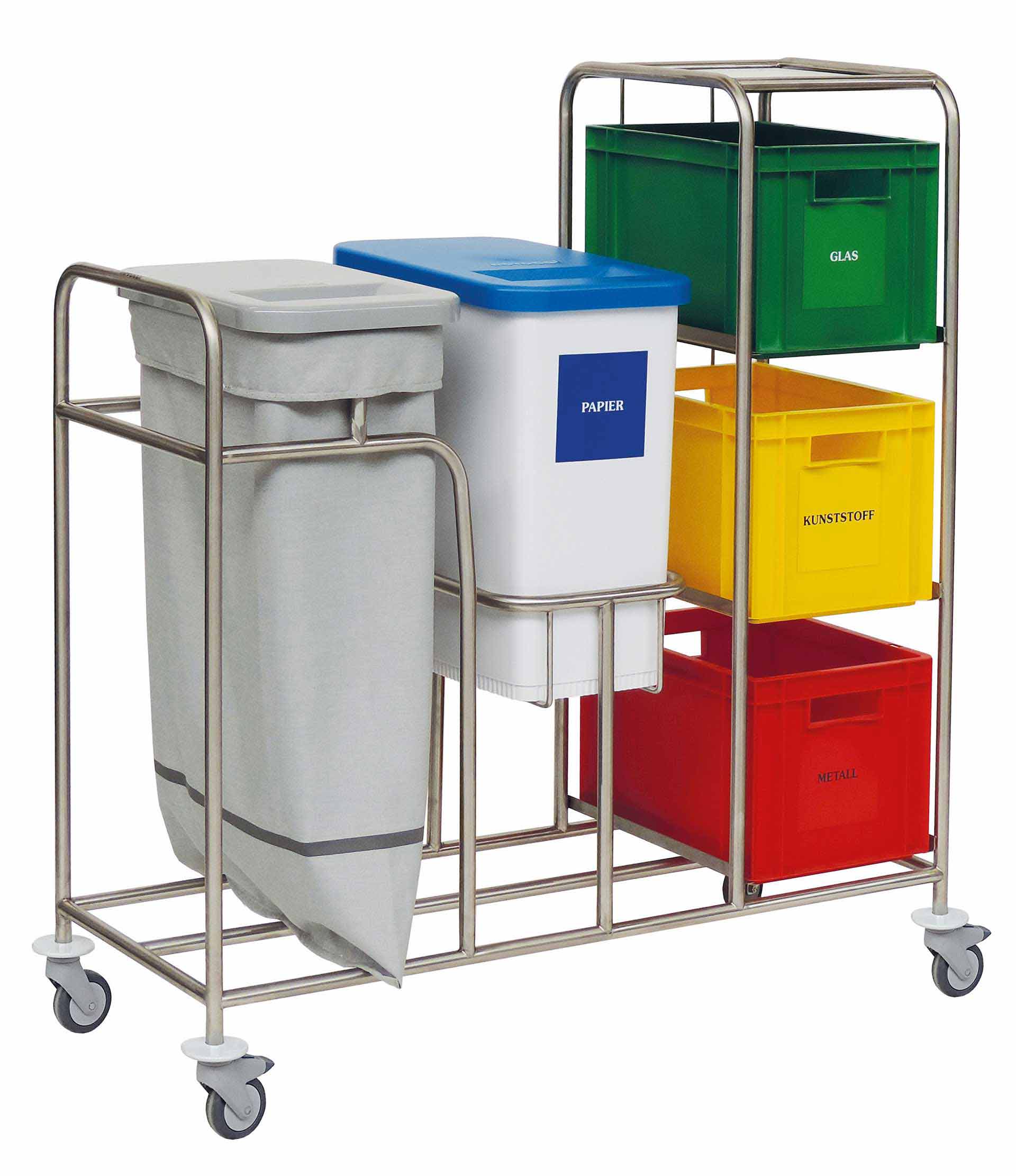 All recyclable collectors at a glance
Please note: the models shown are only examples of our extensive range and can be configured according to your wishes at any time.
Recyclable waste collectors for plastic containers, 50 Litres
Recyclable waste collectors series 2000 and waste collectors with coloured plastic crates
Do you have any questions concerning our products?
Please use the contact form. We will be glad to answer your request. Of course we will treat your data confidentially.
A transfer to third parties is excluded.