Stainless steel laundry collectors: Compact, hygienic and clean
With their attractive, ergonomic and compact design, novocal stainless steel laundry collectors support caregivers in their daily work. Who does not like to use tools that can withstand rough handling, have a timeless design and are also extremely practical?
The stainless steel collectors from novocal have all the features that are essential for the demanding everyday life of caregivers:
stability, hygiene and functionality.
Stainless steel: the perfect material
Stainless steel has properties that are of great importance in everyday hospital and nursing home life:
easy to clean
extremely hygienic
corrosion-resistant
acid-resistant
temperature-resistant
These properties make laundry collectors indispensable in the healthcare sector. The stainless steel collectors consistently cover various steps of hygienic laundry care in hospitals and nursing homes:
Collecting dirty laundry
Sort laundry by categories
Transport of the contaminated laundry to the laundry
Transfer of laundry collectors to further steps within the laundry cycle
Individual laundry collectors for individual requirements
The novocal stainless steel collectors are available as single to fivefold collectors. Different coloured plastic lids or different types of laundry bags and laundry nets facilitate the collection and sorting of laundry in one work step.
novocal offers two standard series of stainless steel collectors:
"Compact" Series
"Compact Plus" Series
The models in the "Compact Plus" series have the same design as the "Compact" model, but each has a push handle and four bumpers. The clamping rings of these collectors are arranged in a row. It is also possible to arrange the clamping rings in the collectors in a square.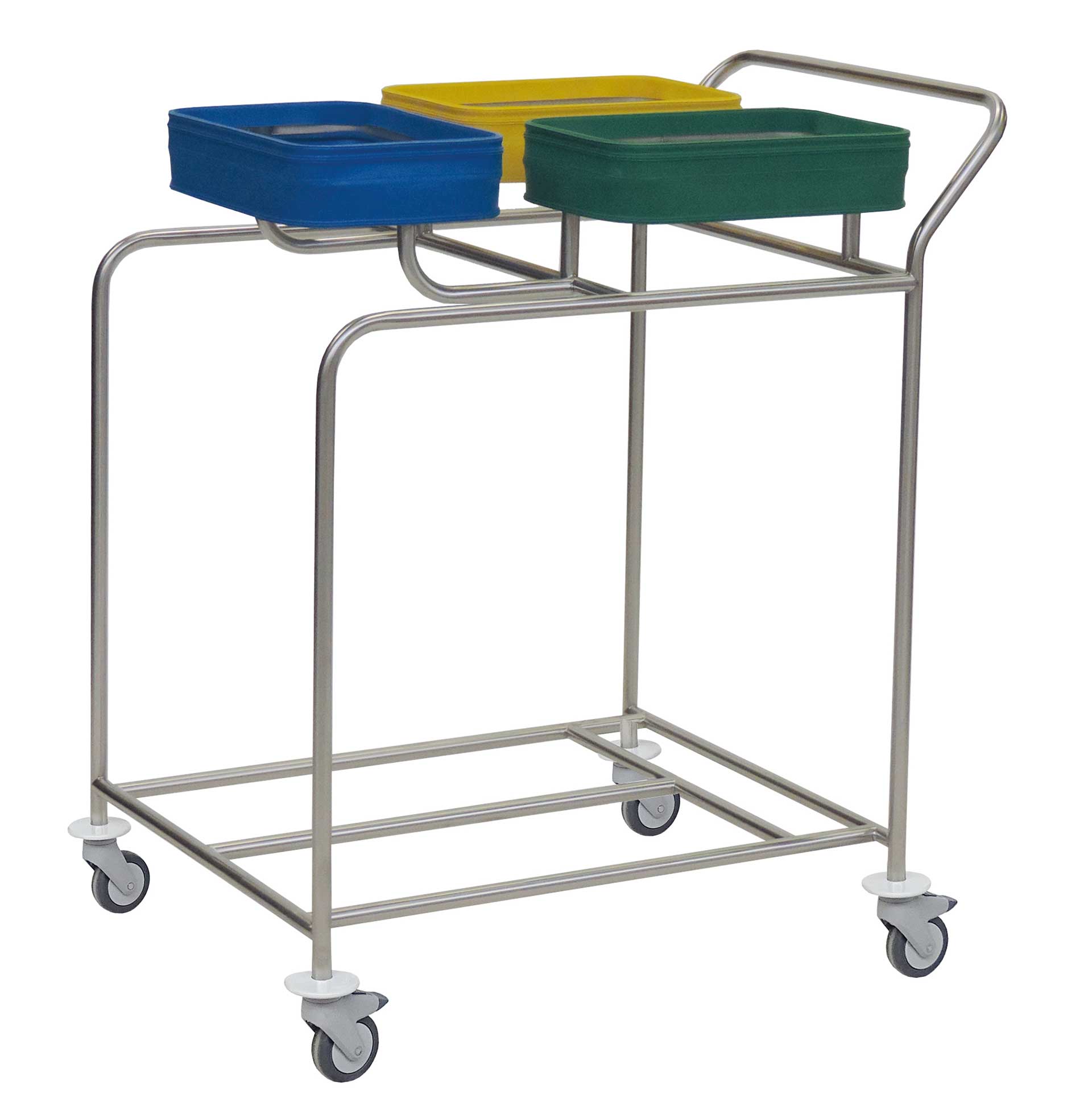 All laundry collectors have the following features
polished stainless steel frame
pipe connections welded all around
4 smooth-running castors, diameter: 75 mm, 2 castors with stop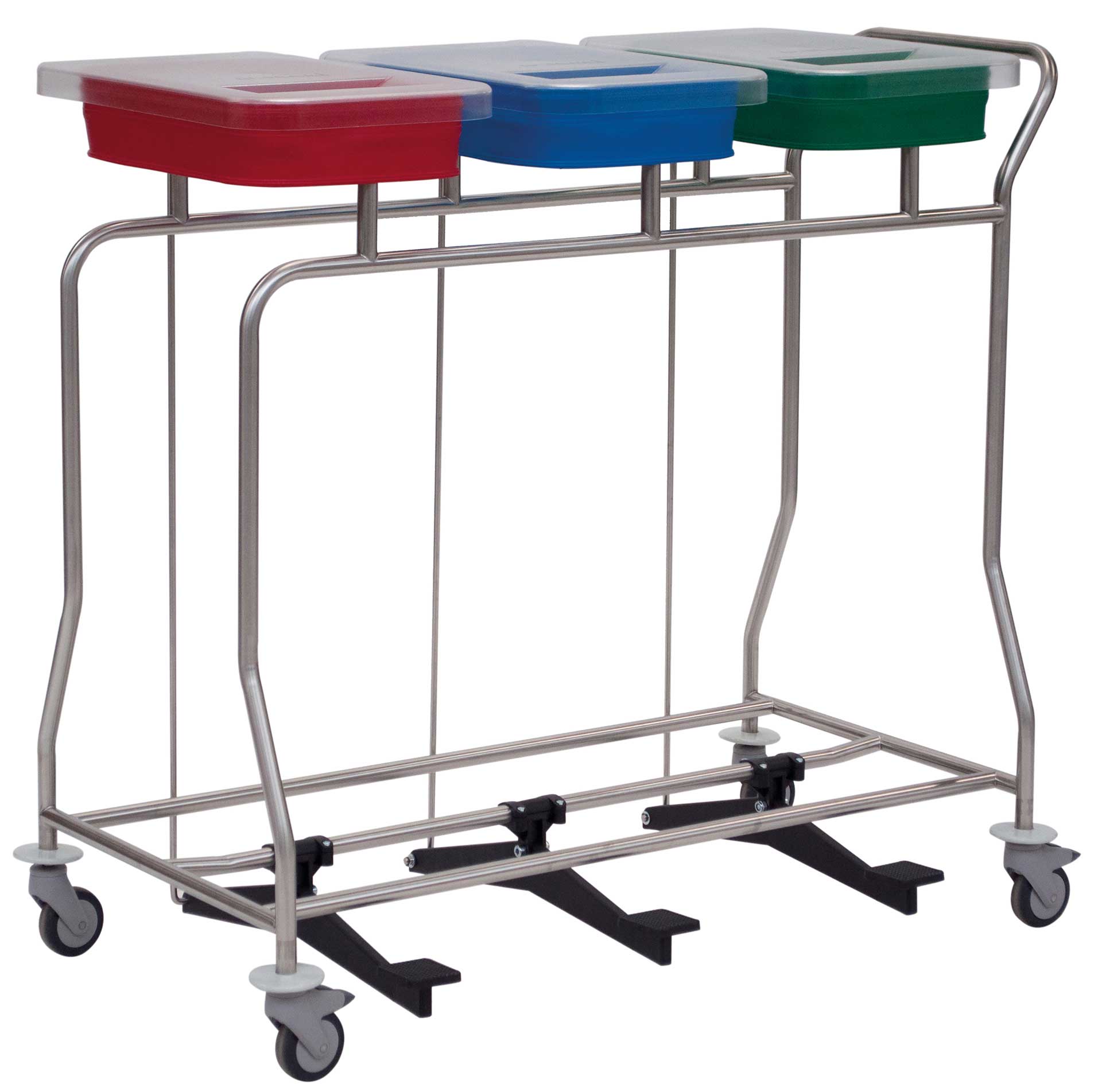 Containing bacteria and germs
Hygiene is more important in hospitals and nursing homes than in any other place. However, germs and bacteria can collect and spread in contaminated laundry. Foot pedals that can be used to open the stainless steel collectors ensure a safe working environment. This ensures that the hands are not contaminated when the laundry collectors are opened and that hygiene is maintained. 

Walls are not damaged by the use of hinged lids.
Wall spacers are no longer necessary.

The laundry collectors are also available as wall collectors and add-on collectors for care trolleys.

The clamping rings have an adhesive ring (SR400) –
colours are freely selectable.

For the stainless steel laundry collectors there are textile bags, laundry nets and plastic bags.
Well combined: Laundry collectors + waste collectors = the ideal team
The "Compact Plus" stainless steel laundry bin can be combined with the "Genius" stainless steel waste bin. This combination is the ideal companion for everyday care and supply. In addition to dirty laundry, hospitals and care facilities need to collect, sort and transport waste hygienically and efficiently. Both are usually carried out in a single operation to save valuable time.
The frontal clamping ring for refuse sacks is operated with the aid of a pedal. A plastic bottom tray supplied as standard supports the heavy refuse sacks and thus prevents the sacks from tearing. If liquids should nevertheless escape, for example, only the bottom tray will be contaminated. This can be easily cleaned and disinfected after removing the waste sack.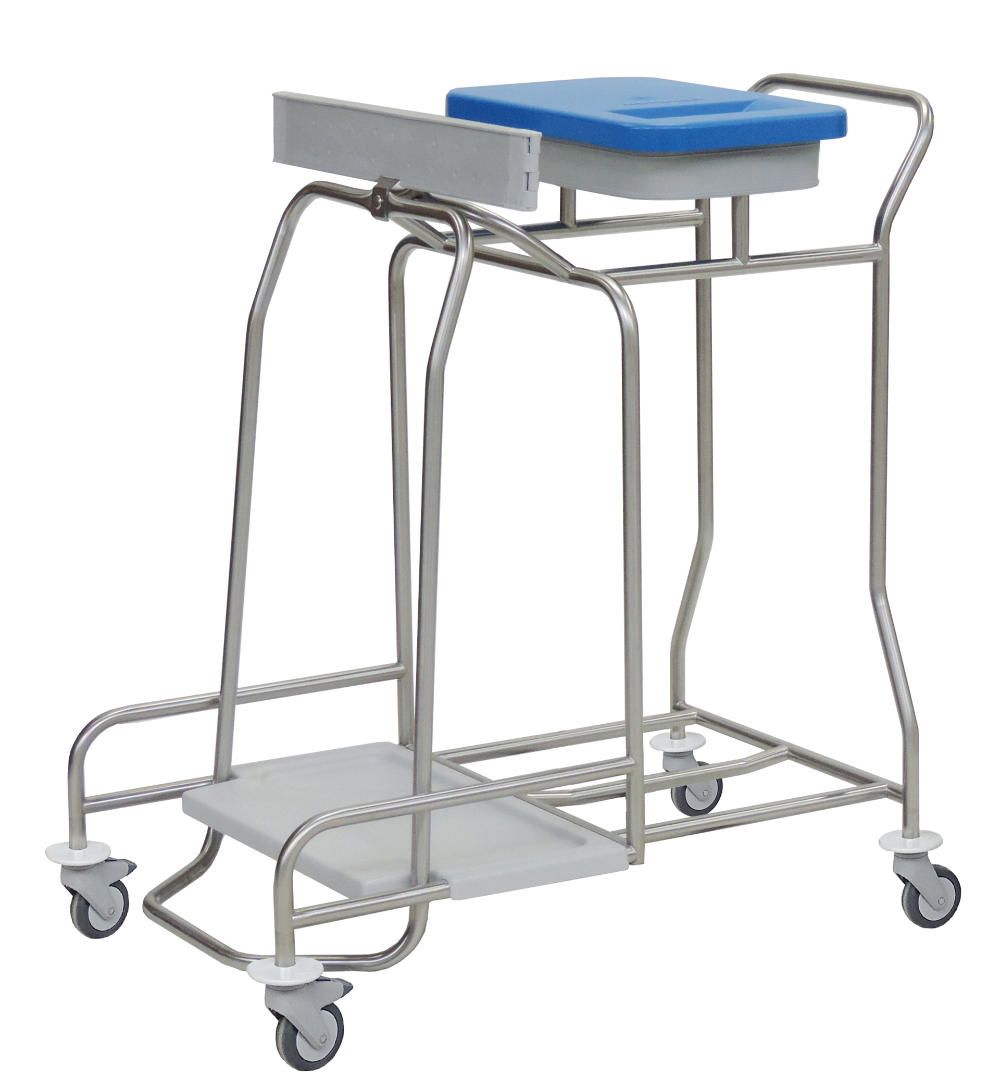 Strengths of the "Waste collectors and laundry collectors" team
The following features distinguish the combined waste collector and laundry bin:
Clamping ring with pedal mechanism
Supplied with plastic floor pan
4 shock absorbers
4 smooth-running castors, diameter 75 mm, 2 castors with stop
Push handle for ergonomic operation of the trolley
We will be happy to advise you
on your planning and special designs.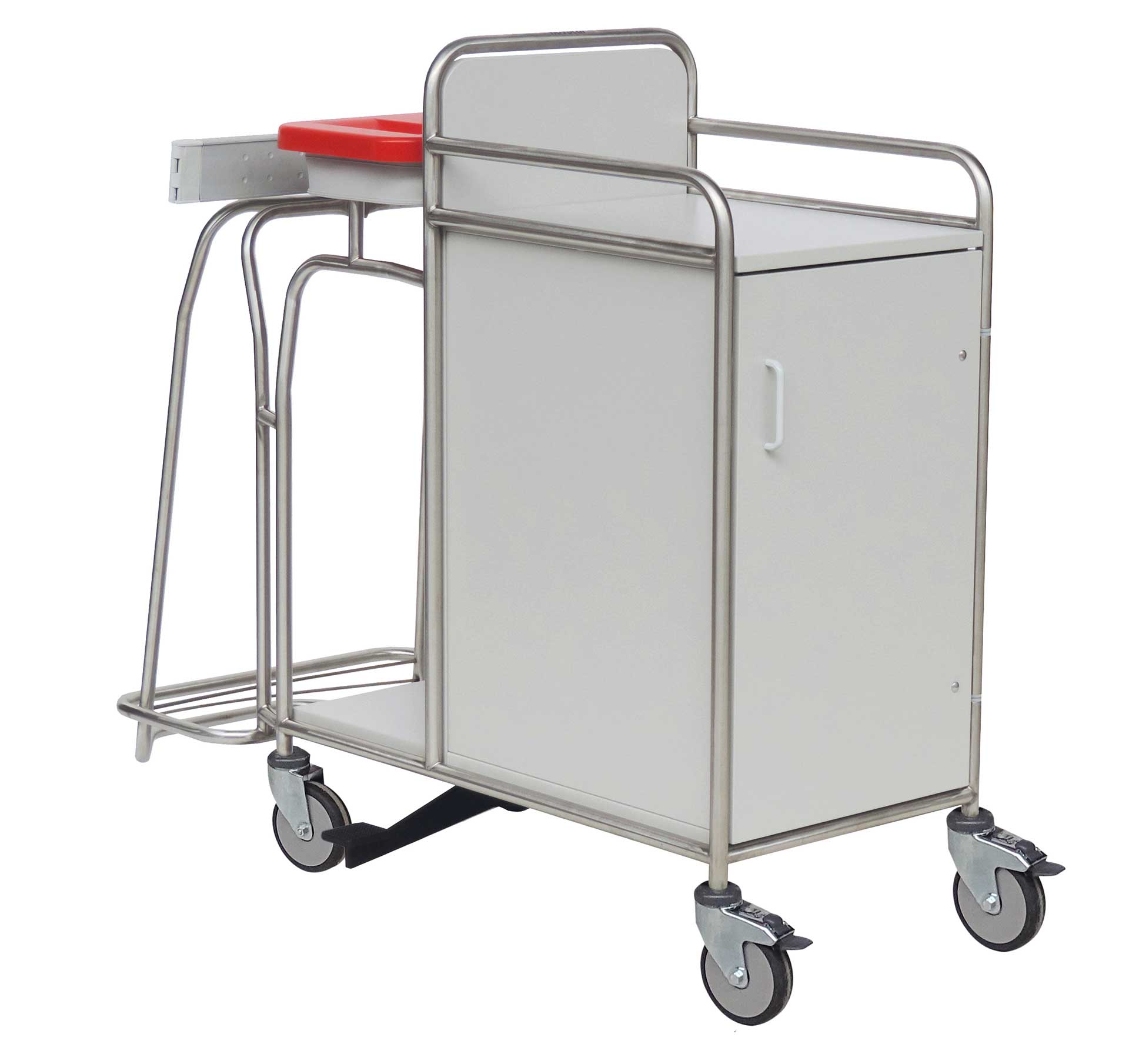 All stainless steel laundry collectors at a glance
Please note: the models shown are only examples of our extensive range and can be configured according to your wishes at any time.
Series "Compact Plus" and special models
Stainless steel laundry collectors with adhesive rings arranged in a square
Combinated stainless steels collectors for waste and laundry
Do you have any questions concerning our products?
Please use the contact form. We will be glad to answer your request. Of course we will treat your data confidentially.
A transfer to third parties is excluded.