Skeleton container trolleys and stainless steel transport trolleys
Rolling companions for transporting laundry and waste: The stainless steel and skeleton container trolleys are robust and durable. They are the ones who move the heavy laundry and waste bags from A to B.
The staff in hospitals and care facilities are under constant pressure to work as quickly as possible without neglecting accuracy. When it comes to the well-being and health of people, every minute and every move can be crucial.
Fortunately, they have active support in their job: high-quality transport trolleys help nursing staff to make their daily work routine as simple and stress-free as possible.
In order to transport laundry or waste bags from A to B without having to expend enormous effort or time, each transport trolley has castors on the underside. These castors are usually divided into two castor wheels and two fixed wheels.
The following section explains in detail how the skeleton transport trolleys and the stainless steel trolleys are configured.
Skeleton container trolleys
All metal parts of the GTR2 grid transport trolley are galvanized and chromated, so that years of trouble-free use is guaranteed. The skeleton container trolley is equipped with two folding intermediate shelves as standard. An inscription plate is welded on the front side. Both intermediate shelves are slightly slanted towards the rear so that nothing can fall out towards the front. The upper shelf folds towards the rear wall, the lower shelf folds towards the front. The front of the trolley is thus closed in the lower part.
Two fixed and two castor wheels with a diameter of 125 mm make it easy to move around.
The following accessories are available for the skeleton container trolley on request:
base tub
clothing rail
textiles protective cover
buffer plates
rubber belts
Stainless steel transport trolleys
The stainless steel trolleys are available in different versions: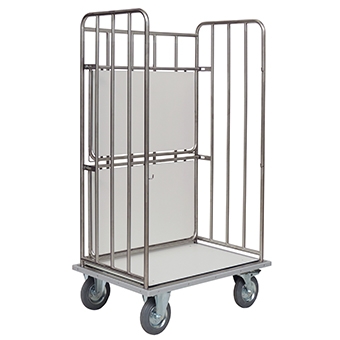 Stainless steel trolleys with foldable shelves
The TRE91 stainless steel trolley for dirty and fresh laundry is equipped as standard with two foldaway shelves made of solid-core material. These are resistant to water, heat and disinfectants.
The large castors with a diameter of 200 mm guarantee smooth running even when fully loaded. The standard equipment includes two fixed and two swivel castors with double stops as well as an all-round shock protection.
Front wall trolley (STE) and transport trolley (TRE)
The front wall trolley (STE) is equipped on one side with a push handle and is intended for transporting large and heavy goods. It has a load capacity of approx. 500 kg.
The transport trolleys (TRE) are closed on two or three sides with a grid, depending on your requirements. The frame is completely made of stainless steel and is therefore very hygienic and easy to clean. The base plate is made of white solid core material. It is resistant to water, heat and disinfectants. With two fixed and two easy-running swivel castors with a diameter of 200 mm, easy handling is guaranteed. Up to approx. 500 kg can be transported with the trolley.
On request, the transport and front wall trolley is available with bumper discs or swivel castors with double stops. Please do not hesitate to contact us!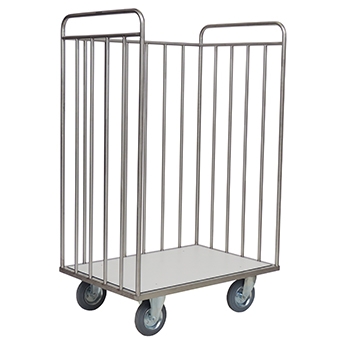 All transport trolleys at a glance
Please note: the models shown are only examples of our extensive range and can be configured according to your wishes at any time.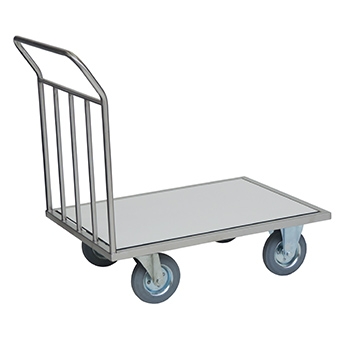 STE70
Front wall trolley
loading area:
980 x 690 mm
Breadth x Depth x Height in mm
1080 x 695 x 1045
Contact us

Do you have any questions concerning our products?
Please use the contact form. We will be glad to answer your request. Of course we will treat your data confidentially.
A transfer to third parties is excluded.