Side tables and worktables for the operating theatre
In the operating theatre or laboratory, tables are the most important inventory. With their dimensions, they provide a solid working surface for instruments and materials.
Everything is quickly at hand. Every second is precious and must be used for medical care on the patient.
Operation side tables
Scalpel! Swab! Syringe! In the operating theatre everything has to be done very quickly and the team has to be perfectly coordinated. Without a long search for instruments, novocal's operation side tables offer a quiet and durable companion for long lasting operations in the hospital.

Side tables made of stainless steel
Since the highest safety and strict hygiene standards are essential in the operating theatre, all operation side tables are made of stainless steel and have a stable frame. Depending on the model, four or five feet are attached here. Two of the smooth running castor wheels have a stop function.                                                                                                                                                                                                                                                                                                                                                                                                                                                                                                                                                                                                                                                                                                                                                                                                                                                                                                                                                                                                                                                        

Operation side tables with different worktops
The worktops of the operating side tables are equipped with a circumferential upstand to prevent the instruments from falling down unintentionally. They are removable and can be sterilized easily.
Depending on the model, the worktops are mounted differently:
fixed worktop with lateral foot
fixed, centered worktop
swivelling worktop, also suitable for heavy loads (up to 30 kg) on request
The height adjustment is done by foot pedal using a hydraulic pump.
Mobile instrument tables
The mobile tables have two shelves on two levels. Both shelves have an upstand to keep all instruments and medical equipment in place.

Instrument table IE01
With the IE01 instrument table you have the choice of whether you prefer removable or fixed stainless steel shelves. Four bumper discs protect walls from damage and dirt. The four easy-running castor wheels with a diameter of 75 mm ensure easy handling of the instrument table. Two of the wheels have a stop function.                                                                                                                                                                                                                                                                                                                     

Instrument tables with drawers
In addition to the two shelves novocal offers instrument tables with one or two drawers. Here additional space is created for utensils. The stainless steel shelves have an upstand of 20 mm and are firmly attached to the instrument table. With a working height of approx. 830 mm the instrument table allows back-friendly working. Two push bars and four easy-running castor wheels with a diameter of 125 mm (two of which are equipped with a stop function) simplify the movement of the instrument table.
Stainless steel working and storage tables
A work table made of stainless steel is used wherever hygiene, a high space requirement as well as easy cleaning have priority. novocal has two versions of working and storage tables in its range:
height adjustable work table with frame and worktop made of stainless steel
working table with frame made of stainless steel and worktop made of solid core material

Stainless steel work table,
height adjustable
The stainless steel frame supports a worktop made of smooth stainless steel plate, with all edges rounded off. This prevents injuries to staff and patients. With the help of a hydraulic height adjustment (-H) the worktable can be continuously adjusted in height from 800-1000 mm.                                                                                                                                                                                                                                                                                                                                                                                                                                                                                                

Working table:
stainless steel with solid core material
The frame of these work tables is made of stainless steel. The worktop is made of white solid core material and is highly resistant to water, heat and disinfectants. Depending on your requirements, the working and storage tables are available as mobile (-F) or free-standing models and can be equipped with one or two shelves.
Please contact us so that we can implement your individual configuration. Special designs are also possible at any time thanks to our internal stainless steel production.
Always a good choice!
As you can see, novocal offers the right table for every purpose. For the operating theatre, for laboratories or also in the laundry area, the functional tables become a loyal and long-time companion of the staff. We would be pleased to advise you!
All side and working tables at a glance
Please note: the models shown are only examples of our extensive range.
Side tables for the operating theatre with different worktops
Working and storage tables, stainless steel and solid core material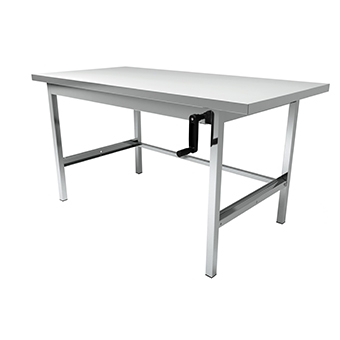 CI-ATE180-H
stainless steel
height adjustable
diff. breadths available:
1400, 1600, 1800, 2000 and 2200 mm
Depth x Height in mm
800 x 800-1200
Contact us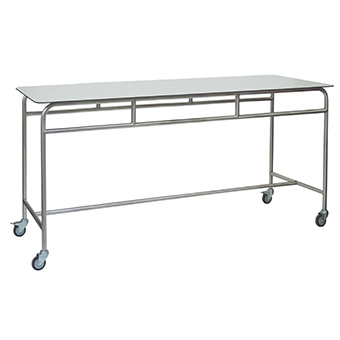 ATE200-F
solid core material
mobile
1 or 2 shelves
diff. breadths available:
1500, 2000 and 2500  mm
Depth x Height in mm
650 x 850
Contact us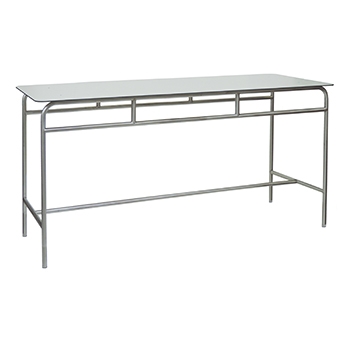 ATE200
solid core material
floor model
1 or 2 shelves
diff. breadths available:
1500, 2000 and 2500 mm
Depth x Height in mm
650 x 850
Contact us

Do you have any questions concerning our products?
Please use the contact form. We will be glad to answer your request. Of course we will treat your data confidentially.
A transfer to third parties is excluded.