iPad trolley: Fast, handy and more energy-efficient
With an iPad or tablet PCs from other manufacturers, data can be documented, findings explained or therapy plans discussed in seconds.
Advantages of a tablet PC
The following points show why the use of tablet PCs and thus also the use of iPad trolleys on the ward is worthwhile:

1. One click – and the tablet PC is ready for use.
Unlike conventional computers and laptops, tablet PCs can be turned on with just one click and are immediately available in the iPad trolley. Long loading times or updating software are no longer necessary. This saves time and increases the satisfaction of the nursing staff.

2. Once charged – and the tablet PC lasts for hours.
Even during shift changes, the tablet PCs can be used for a long time thanks to state-of-the-art technologies. The high battery capacity enables trouble-free and reliable work with the iPad trolley.

3. Once used – and you do not want to give it back.
Tablet PCs are handy and compact. With apps installed, they offer many multimedia ways to communicate with the patient and explain diagnoses and therapy processes. The iPad trolley provides an ergonomic and user-friendly basis for this.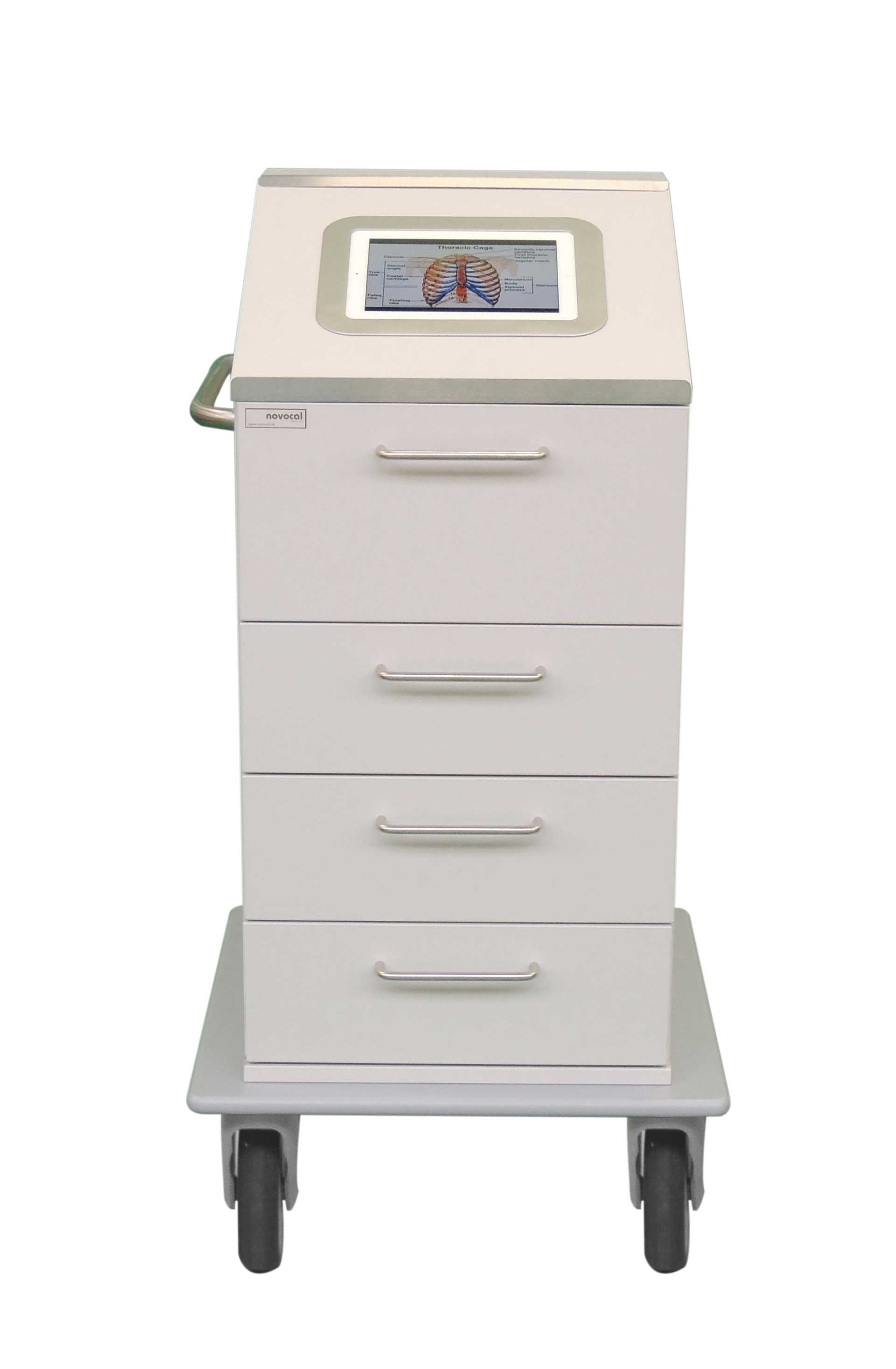 The iPad trolley is an ergonomically shaped round trolley with a sloped work surface into which the tablet PC can be easily integrated. The integrated tablet PC is secured against theft with a lateral lock. The slanted work surface can be folded to the side and offers a compartment for additional storage space. The surface of the iPad holder is easy to clean and the device remains protected from penetrating moisture.
The lower section of the iPad trolley can be individually equipped with drawers, compartments, doors or even hinged folding doors.
An integrated additional battery (optional) extends the running time of the tablet PC by up to 12 hours (depending on model).
The following features characterise the iPad trolley:
pull-outs with softclose, mounted on telescopic rails
undercarriage is made of special high-quality sheets and worktops of quality class E1 with a melamine resin coating on both sides and a 2 mm thick safety edge foil
chassis consists of a continuous solid plastic plate and also serves as a wall deflector frame
4 high-quality double swivel castors with a diameter of 125 mm, 2 of which have a stop function
different colours for pull-outs and side panels are available according to colour chart
The iPad trolley at a glance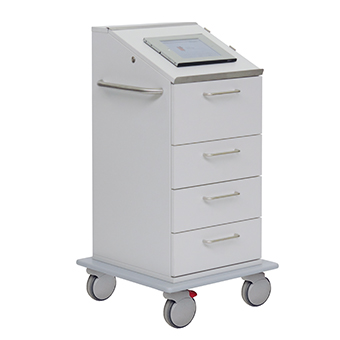 IPW4400
4 drawers
optional accessory BS4L
Breadth x Depth x Height in mm
Cabinet:
450 x 490 x 905
Total:
570 x 570 x 1085
Contact us
Do you have any questions concerning our products?
Please use the contact form. We will be glad to answer your request. Of course we will treat your data confidentially.
A transfer to third parties is excluded.